Seychelles hosts second interfaith symposium of the Indian Ocean
08-November-2012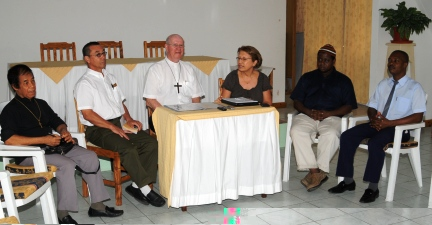 The interfaith network of the Indian Ocean island countries links Madagascar, Mauritius, Reunion and Seychelles. The first such symposium was held in Mauritius in October 2009.
This was announced at a Sifco press conference at the Care (Campaign for Awareness, Resilience and Education against substance abuse) House, yesterday, attended by the current chairman of Sifco, Catholic Bishop Denis Wiehe; Anglican Bishop French Chang-Him, also a prominent member of Care; Pastor Michael Bijoux of the Seventh Day Adventist Church; Ahmad Labiche of the Islamic Society of Seychelles; T. D. Joseph of the Hindu Council of Seychelles and Homa Mungapen of the Baha'i faith and coordinator of the interfaith network. Also present was Robert Ah Weng, director of Care.
Ms Mungapen said a prominent delegate at the symposium will be the secretary of the African Council of Religious Leaders (ACRL) Imam Mustafa Ali.
The symposium will run from Saturday November 10 to Tuesday November 13.
Bishop Wiehe said the main objective of the interfaith movement is to appreciate and respect one another's religious beliefs, while not necessarily sharing them.
"I really believe in a rapprochement between persons of differing religious persuasions, to listen to them and find out what we share in common," he said.
Bishop Chang-Him said the fact that we can come together is important for the society, because "Seychelles needs to undergo a healing process".
He also said there appears to be a "vacuum in post-secondary institutions in terms of spirituality".
Pastor Bijoux said Sifco represents the whole nation and in strategising for the common good, it is able to reach out to everyone.
Sifco was launched a few years ago to support Care's initiative to fight social ills such as drugs and alcohol abuse. Since then, the two organisations have organised several activities together. This includes taking part in the flag raising ceremony on Independence Day this year.
Mr Ah-Weng said it is believed that social ills are linked to spiritual weaknesses.
"A way out of addiction is spiritual strength," he said.
The symposium will be attended by seven delegates from Reunion, three from Madagascar, two from Mauritius and those from Sifco.
The most recent member of Sifco is Fr Sergios Janosevic of the Orthodox Church.
Towards the end of the press conference, Bishop Chang-Him commended his Catholic counterpart, Denis Wiehe, for thanking God for the freedom of hostages Rolly Tambara and Marc Songoire, who had been held captive by pirates in Somalia for more than a year.
He requested other denominations to emulate Bishop Wiehe's example of offering thanksgiving religious services following the safe return of our two fishermen.