Primary teachers boost their technological skills
09-November-2012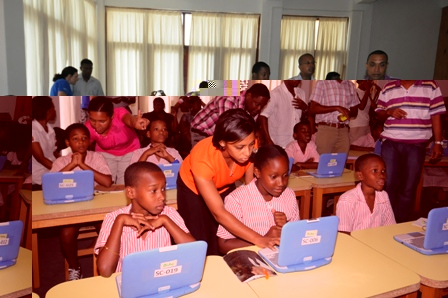 With the help of several trainers and technicians from Intel Education Service Corps (IESC), 46 teachers from the 23 primary schools on Mahe, Praslin and La Digue have for the past two weeks been upgrading their technological skills and sharing that knowledge with their pupils.
This is being achieved following the donation of 1,840 classmate PCs and 62 teacher laptops from Sheikh Khalifa of the United Arab Emirates, while the University of Seychelles (UniSey) provided the venue and technical support for the training.
The IESC trainers and technicians are from the United States of America, Israel, Malaysia, besides Seychelles and have Linda Kenworthy of Montreal, Canada, as team leader.
She says they are all volunteers who have obtained unpaid leave from their employers abroad to take part in the educational programme in Seychelles.
"This week, we trained the teachers on the classroom management software (mythware) so that they can create lesson plans on the teacher laptop and share these with the students via the Intel-powered classmate PCs," said Ms Kenworthy.
She added that the group has been to all 23 schools to train teachers how to troubleshoot and upgrade their software.
"We are in other words, training the trainers," said Ms Kenworthy.
Rosalind Denys, the Ministry of Education's system support manager, said using software in teaching was launched since 2010.
She said the ministry initially had to train the teachers and monitor their progress in the use of such technology for teaching.
She said that will allow the students to become more independent in their learning.
Ms Denys noted, however, that though the educational system was having recourse to technology, not everything will be allowed.
"For instance, in the classroom, mobile phones are out," she said.
Yesterday, Seychelles Nation and Seychelles Broadcasting Corporation (SBC) had the opportunity to attend such a class in progress at UniSey, Anse Royale, and observed teacher-pupil interaction via Intel-powered classmate PCs. This involved about 25 primary five pupils from Anse Royale school.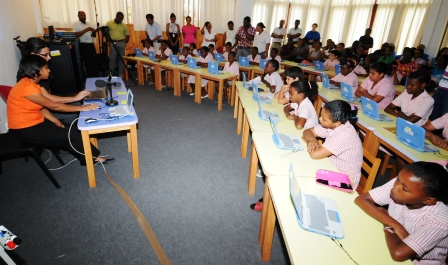 The class focused on mammals, with questions followed by a quiz controlled by a teacher which popped up on the pupils' screens.
The pupils, who proved remarkably bright, typed in whatever new characteristics they had learnt about mammals after answering oral questions.
This particular class followed one from primary two to be followed later by another from primary four.
The session was attended by most of the primary school teachers involved in the training as well as some Ministry of Education officials.