National Archives goes digital
10-November-2012
This follows the launch by the National Archives of its digital research facility.
The launch, which took place yesterday morning, coincided with an open-day commemorating the 48th anniversary of the institution's official existence.
Culture principal secretary Benjamine Rose pressed the computer key to launch the digital facility at the archives in the National Library building in the presence of several guests, school children and teachers.
Following the launch all present were able to interact with archive researchers about the new facility and watch the scanning process as well as view an exhibition depicting the various services the archives offer.
The government has recently invested a lot in modern equipment to preserve and store precious historical documents.
Recently staff of the archives followed a week-long training on the WINISIS database which is a computer data entry programme to better equip them with the necessary skills to use the new system.
Speaking before the launch of the facility, Ms Rose said archived documents are not only priceless but are equally as fragile and delicate which is why the institution has had to evolve in its search for new and efficient means to preserve its increasingly numerous but still ever so precious documents.
Ms Rose pointed out that "this new facility will be the institution's springboard as it opts to go entirely digital in the future to keep pace with worldly developments in order to enhance its efficiency and adequately assert its role as a research-based and record-keeping facility".
National Archives director Alain Lucas said the new facilities will make research easier for everyone using the archives.
He said the public now has access to a number of computers for the purpose. They will of course be attended by archive researchers who will help them with the search and printing of the documents.
Mr Lucas said an internet service is also available whereby those using the archives can easily make use to their convenience.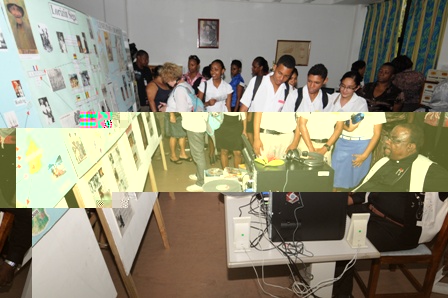 "The aim is to ensure that people using the archives have at their disposal a service with all the facilities to make the research process complete so they leave satisfied. At the same time these new facilities show that we are also keeping pace with modern technology in this field," added Mr Lucas.

He said as the archives contain lots of documents – old and new – researchers are gradually scanning them all to be stored and preserved on computer files and also to make them available for the public to access. But Mr Lucas noted that members of the public who want will still have the possibility to access the originals of the documents.
Mr Lucas added that the number of people -- from students to lawyers and researchers -- who use the archives for research and other purposes, have increased considerably over the years.