International School portrays cultural diversity
10-November-2012
A large group of parents, among whom President James Michel and First Lady Natalie Michel, watching the cultural show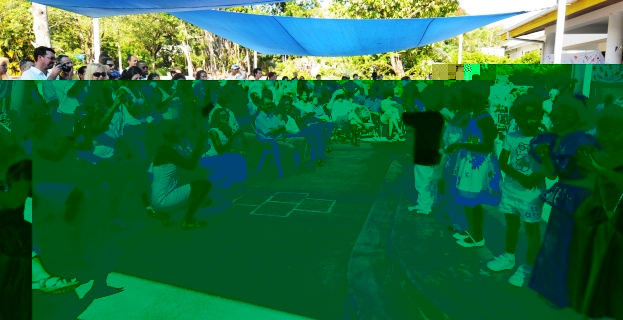 The show was attended by a large group of parents. Among them were President James Michel and First Lady Natalie Michel, who like most parents, were often enthusiastically shooting photos, especially when their daughter Laeticia was on stage.
School director Dan Roberts said the open day was an initiative of staff and students and after this was publicised on the Internet, thousands of children from 15 countries decided to emulate the ISS in celebrating the first-ever worldwide schools day.
Though the ISS has pupils of so many nationalities, the majority are Seychellois. The school has 82 teachers and auxiliary staff, taking children as young as three at crèche level to 18 at Advanced Level.
The children dressed in different national costumes of various countries, notably England, Ireland, USA, China, India, Spain, France, Egypt and continental Africa, sang and danced to recorded music from those parts of the world.
Seychelles was included in the group representing Africa, performing a hip dance to the tune of 'We are the children of Africa, Jumbola'. Another familiar one was 'Frère Jacques, Dormez-vous' originating from France.
Before the cultural show, Mr Roberts told parents and other guests that in a rapidly changing global landscape, young people are growing up at a time when global mobility is happening. New global values are establishing themselves through education and this is an opportunity for true world citizenship to be developed in our young people, he added.
"Any school wherever in the world has diversity within, there are not many that don't. Each of these schools has both a responsibility and an opportunity to influence all our futures for the better. We hope that through celebrating our children's national differences, a common international culture can be developed through also celebrating the internationalism of our community," said Mr Roberts.
The chairperson of the ISS governing board, Laura Valabhji, announced the launch of the school's first lottery with a star prize of a scooter. This, she said, is co-sponsored by the ISS and Abhaye Valabhji.
She said there is an array or other interesting prizes and tickets will go on sale very soon.
Mrs Valabhji said the money raised will fund a junior wing of the ISS. "We have had to think outside the box to raise funds, instead of going to parents with fee increases all the time," said Ms Valabhji.
More details will be announced at the school's annual general meeting later this year.