Seychelles remembers world war heroes
12-November-2012
The ceremony is an annual event to remember those who lost their lives in the two world wars – from July 28, 1914 to November 11, 1918, and from September 1, 1939 to September 2, 1945.
A mass was held earlier in the morning at St Paul's Cathedral in honour of the world war heroes.
Among those present to pay tribute to those heroes and ex-servicemen were Vice-President Danny Faure, Designated Minister Vincent Meriton, chief justice Fredrick Egonda-Ntende, members of the diplomatic corps and officials of the Seychelles People's Defence Forces.
Father Roger Decommarmond and Reverend Daniel Kallee led prayers at the start of the ceremony, which was then followed by solemn music played by the national brass band.
Addressing those present, British high commissioner Lindsay Skoll said the day is to remember, thank and honour.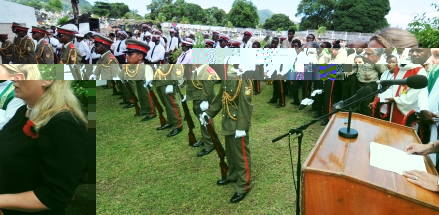 She also paid tribute to the efforts of combined forces on the high seas in the fight against piracy and those who sail and fish in the Indian Ocean.
"We give sincere thanks to the release of Messrs Rolly Tambara and Marc Songoire, and remember those still being held in Somalia," she said.
"It is crucial that we understand the importance paid by each previous generation to secure the freedom of the next and those we enjoy now."
"There is no greater sacrifice than laying down one's life for the benefit of others," she added.
Two minutes' silence was observed in honour of those who fought in the two wars before Mrs Skoll led the way in the laying of wreaths at the cenotaph.
Remembrance Day celebrated on November 11 marks the anniversary of the armistice which ended the First World War.