Seychelles Volleyball Federation (SVF) Cup-Spikers complete third league and cup double,Arsu retain title in style
12-November-2012
All the action was at the Palais des Sports on Saturday and was beamed live on Seychelles Broadcasting Corporation TV. Social Affairs, Community Development and Sports Minister Vincent Meriton, Seychelles Olympic and Commonwealth Games Association (Socga) president Antonio Gopal, National Sports Council chief executive Alain Volcère and SVF chairman Jude Florentine were among the big crowd who had come to watch the matches and see for themselves in what shape the local teams are one week before the start of the Indian Ocean Club Championship (IOCC) in Madagascar.
Arsu down Friends to retain title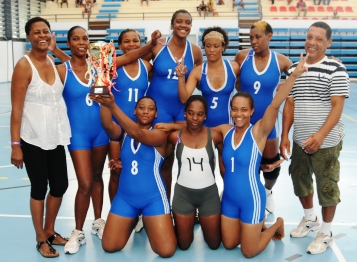 After powering past league runners-up Cascade in the semifinals, Arsu wanted to finish the season on a high by sending Friends back to the drawing boards a week before their debut in the IOCC.
"We hadn't won against Cascade and Friends in the league and the team's objective was to take revenge on them to win our first trophy this year," said captain Tina Agathine, who added that the return of Jerina Bonne after giving birth to a boy really helped the team as the players regained confidence in their ability.
Instrumental all season long in shouldering much of Arsu's attacks, Agathine was helped at the net by evergreen Bonne who showed that she has some more good years left in her – something Marie-Antoine 'Tintin' Gilbert can also boast about taking into account the way they played in the marathon 108-minute five-setter.
After taking the opening set 25-21, Arsu could not contain Friends as Yvonne Legaie, captain Kelly Rath, Belira Jacqueline and Joselle Labrosse who had come in for Lynn Tirant, bombarded them from all over the place. League champions Friends won the second and third sets 25-15 and 25-23 but could not wrap up the game when Eliena Mousbé sent her service into the net and Jacqueline's attack flew wide giving Arsu a 25-20 fourth-set win to tie the game at two sets apiece.
The lead changed hands in the decisive fifth set and with the score tied at 13-13, Legaie's attack dropped into the net and with an opportunity to put things away, Arsu didn't let the chance go to waste. Seasoned player Bonne's intelligent play proved decisive for a 17-minute 15-13 win as Arsu captured their first trophy of the season giving them back-to-back SVF Cup triumphs.
Arsu's stunning win also prevented Friends from achieving a first league and cup double and at the same time avenge their women's division one cup 0-3 (24-26, 22-25, 17-25) loss and league defeats.
Premium Spikers complete third straight league and cup double
Premium Spikers rallied from a set down to record a four-set victory over Beau Vallon whose new recruits Ian Furneau (without a club after having played for Nantes in France for ….years) and setter Jones Mangroo (signed from Neo Boyz) watched in disbelief as their team suffered another defeat against their main rivals.
After trouncing Racing Club 3-0 (25-20, 25-17, 25-18) in the men's division one cup final three weeks ago, Beau Vallon looked good to win a second title this year after taking the first set 25-21.
But Premium Spikers coach Bernard Denis, who had hired the services of Maurice Denys as assistant on Saturday and to take care of the team at the IOCC in Madagascar as he will be on another overseas mission, made an intelligent tactical switch to turn the game around. Coach Denis got Percy Riaze to play as big man in place of new recruit and former pro Guy Valentin who was given the reception role.
This switch worked to perfection and Premium Spikers were also good at the service line, especially through Kevin 'Kosto' Sinon who scored a number of aces with his powerful jump services.
Compared to last year when the game went to five sets before Premium Spikers won 3-2 (25-23, 25-18, 19-25, 21-25, 20-18), this time captain Jean-Paul Lepathy and company needed less playing time to close the match and complete a third league and cup double on the trot.
Riaze, Valentin, Sinon, Jude Frederick were all instrumental in attack for a disciplined Premium Spikers who took the second, third and fourth sets 25-17, 25-23 and 25-23 for another big win in a exciting and pulsating encounter in which young recruit Caleb Souffe played a part.
G. G.