House damaged as burst pipe sends mud tumbling
14-November-2012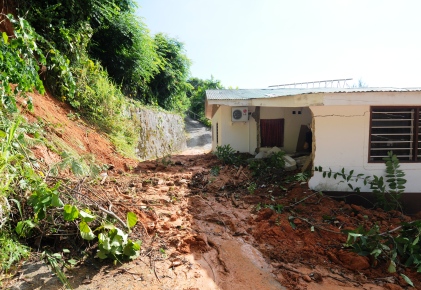 A lady resident said she had just left the room a few minutes before the earth tumbled at 9.15pm with an "impact that shook the entire house".

She said there were four people in the house when the incident happened just a few metres uphill of Marie-Antoinette restaurant.
"We had alerted the Public Utilities Corporation (PUC) that the pipe had started to leak badly 15 to 20 minutes earlier," she said, adding it is not the first time such incidents happened there but with lesser damage when only the compound was flooded with silt.
PUC's distribution supervisor Kevin Nicette said the pipe involved is 100mm in diameter, "and like all other asbestos cement pipes it needs to be replaced because they are old and no longer able to withstand too much pressure".
An engineer on the site – who said he had no authority to talk to the media on the issue – told Nation the pipe was already weakened by vehicles passing on the cracked, high perched road "which was designed to take only light traffic but now carries heavy trucks".
The 100mm pipe passes under the road and was only scarcely visible from gaps left by washed away soil.
Mr Nicette said water pressure may have built up at that time when most consumers closed their taps as demand dropped.
"We will now use polythene pipes located on the other side of the road to supply water to the area," he said.
Speaking on site, Land Transport Agency's (LTD) chief executive Parinda Herath said the road is designed to take heavy vehicles but structures like pipes should be laid at a minimum distance below the surface, but agreed if such rules are not observed then the structures can be damaged by the weight of traffic passing above.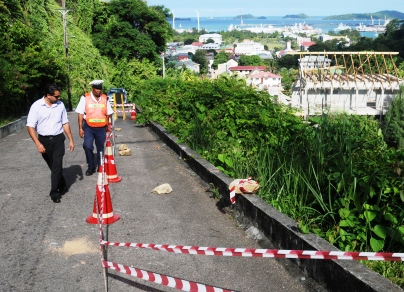 He however said from today only vehicles below three tonnes in weight will be allowed to use the road given the weakness that has developed. Even then he urged motorists using the road to be extra careful.
Mr Herath said an emergency project is under way to repair the road by erecting a retaining wall which should take three weeks to complete, or longer if the decision is taken to build the supporting structure in concrete, which would need extra time to cure.
He said the LTD will invite tenders for the work, noting a part of the road has been cordoned off using reflective tape, marking where drivers should avoid before and during the repair work.
Sergeant Jeris Dufrens of the Seychelles Police said his department will help to guide traffic, noting the area poses risks to road users and adjacent residents.