Minister happy with repairs on La Rosière primary school
14-November-2012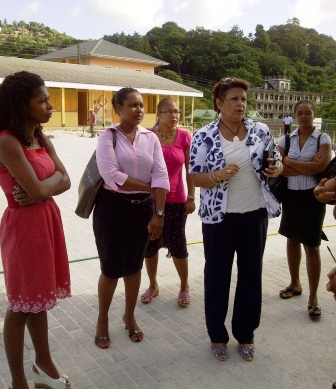 The aim of the minister's visit was to see the progress of ongoing renovation work being carried out on the school building and grounds.

Work to re-roof a block of classrooms, to repaint the school building, to restore the multi-purpose court, among many others, have been completed.

The laying of bricks and the paving of the main part of the school compound is nearing completion. This will help to keep the level of dust low especially during the dry season.
A security kiosk is also being built at the school's main entrance.
The minister was accompanied on the visit by the principal secretary for education Merida Delcy, Mont Buxton's Member of the National Assembly Sheryl Vengadasamy, director general for planning in the Ministry of Education Charles Confait, Mont Buxton and English River district administrators Michelle Sabury and Audrey Sanders.
At the end of the visit, the delegation expressed satisfaction with the way the work is being carried out.