Pothin learns the ropes in Ouagadougou-Cycling
14-November-2012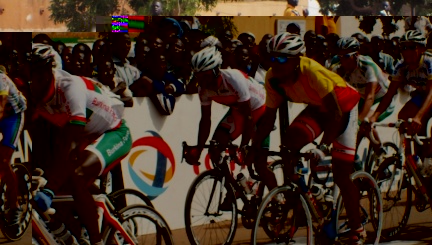 Accompanied by coach Andrew Boniface, Pothin competed in the 31.8km individual time-trial and 170km road race in the under-23 category, but his times also counted for the elite class.
With a time of 46 minutes 23 seconds (46:23), Pothin was ranked 10th in the under-23 category and 23rd in the elite division in the 31.8km individual time-trial.

Ethiopian Tsgabu Grmay won the under-23 category race with a time of 39:14 and was also ranked second in the elite class won by Eritrean Daniel Teklehaimanot with 39:11.
In Sunday's marathon 170km road race disputed under sunny conditions and with temperature topping 40 degrees, Pothin clocked 4 hours 25 minutes 28 seconds (4h25:28) to finish 19th in the under-23 division and 59th in the elite class.
Eritrea's champion Natnael Berhane registered an amazing exploit as he captured both the men's under-23 and men's elite gold medals with a time of 4h00'27 (average speed of 42.42km per hour) after he out-sprinted South African Jay Thompson with 200m to the finish line after they had broken away from a 10-man group that had led the race.
Eritrean star Berhane, who signed with French professional team Europcar this year and will compete in the Tour de France in 2013, was also last year's continental championship road race winner.
With the same time of 4h00:27, Thomson took silver in the elite category while bronze went to another Eritrean Frekalsi Debesai (4h02:17).
Algerian Hamza Merdj was the runner-up and South African Songezo Jim finished third in the under-23 class with identical times of 4h02:33.
A total of 87 cyclists took the start of the road race which was shortened to 170km from 204km and 18 had to abandon after suffering from dehydration while others were disqualified as they could not keep pace with the average time.
According to reports from Ouagadougou, Pothin made a good start in the 170km race and was part of the four-man leading pack with a two-minute advantage on the main peloton at the half-way mark. After the breakaway group was caught with 60km to go, Pothin lost valuable time as a result of a flat tyre.
Eritrea made a clean sweep of all the gold medals as it also won the team time trial and individual time trial.
Daniel Teklehaimanot won the 31.8km individual time trial in a time of 39 minutes 11 seconds and was followed in second and third places by Ethiopian Tsagbu Gebremaryam (39:14) and South African Jay Thomson (39:14).
Teklehaimanot's win came after he had joined forces with Natnael Berhane, Frekalsi Debesai and Jani Tewolde to clinch victory in the 42.4km team time trial in a time of 51 minutes 49 seconds.
G. G.