UN chief to pay first visit to Seychelles
16-November-2012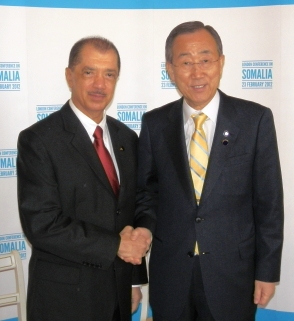 The secretary-general is expected to arrive in Seychelles on Monday November 19 for a two-day visit during which time he will call on President James Michel at State House, as well as visit one of Seychelles' two Unesco World Heritage Sites, the Vallée de Mai on Praslin.
During his working visit, Mr Ban will also hold talks on various key issues such as climate change and environmental conservation, piracy and maritime security, small island developing states (Sids) issues, and tourism, one of the pillars of the Seychelles economy.
"The visit of the United Nations secretary-general to Seychelles is a great honour for our country.
This will give us an opportunity to engage the UN in more in-depth discussions concerning the issues that matter to small island states such as climate change and sustainable development, as well as being able to show the progress Seychelles has made in environmental conservation, human development and the fight against piracy," said President Michel.
Foreign Affairs Minister Jean-Paul Adam said that "this historical visit will provide a unique opportunity to showcase what experiences Seychelles has to offer the international community and to demonstrate the value a small nation like Seychelles brings, as a voice for all Sids around the world."