Ambassador underscores Seychelles' value to the US
16-November-2012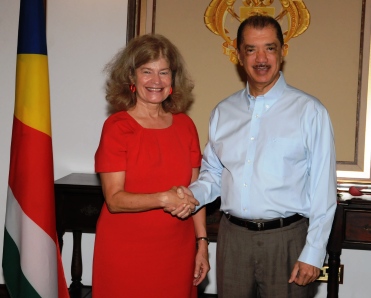 Ms Villarosa was speaking at State House after presenting her credentials to President James Michel, becoming her country's new ambassador.
"Seychelles plays an important role in so many different areas," she said, giving as an example the work Seychelles is doing in prosecuting pirates, which she said has been very important, noting that attacks by the buccaneers in the Indian Ocean have declined.
"Seychelles deserves a lot of credit in this. This country is also playing an active role in the region, helping restore democracy in Madagascar; taking regional leadership roles which the United States is delighted to see," she said.
Ms Villarosa said Seychelles works with the US to improve regional security which is also very important and is another area in which the US wants to work with us.
She said there is a lot of economic growth potential in this country after the "great job Seychelles has done with its reform programme".
"We want to get US companies to help Seychelles grow and employ Seychellois," she said.
"We already have good relations and I want to make them even better using different ways.
For example Seychelles has tremendous potential in alternative energy. You have the sun, wind and waves which are the sources of the energy for the future," she said, adding Seychelles can also lead in this areas and noting that our environment is well preserved amid threats to pristine areas "that are disappearing in other parts of the world".