Four retire after decades of public service
16-November-2012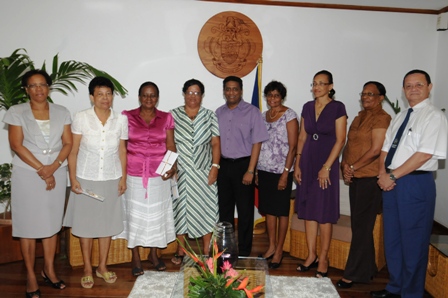 He thanked them for having put in 44 years of service each.
They are former teachers Zita Laurence, Aimee Mussard and Anne-Marie Port-Louis.
Also in the group was Lorette de Commarmond who served for 10 years in tourism before joining the immigration department, where she rose up the ranks during the next 34 years to become the principal immigration officer.
All the retirees said they enjoyed their work very much, with the teachers saying the chance to mould pupils is very rewarding, and regretted that some teachers today leave the noble career so early.
Mrs Port-Louis commended those still working for the Ministry of Education, advising them of the need to identify the uniqueness of each pupil who calls for special attention.
"You cannot just go to a class and give a lesson.
You need to know who is following and who needs special attention," she said.
All the retirees looked energetic and said they will continue serving the community after a rest period following which they will take the extra time to do the things they always wanted to do and in some cases felt they neglected because of their work commitment.
They also talked about visiting their relatives based overseas.
The retirees were accompanied by top government officials when they called on Mr Faure.