Agencies test emergency response to disaster plans
16-November-2012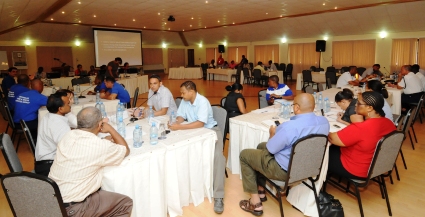 The exercise was organised by the department of risk and disaster management (DRDM), headed by Paul Labaleine.
Other agencies who took part included the department of environment, meteorological services, the police, Seychelles People's Defence Forces (SPDF), Fire and Rescue Services Agency, Land Transport Agency, Islands Development Company (IDC), Seychelles Civil Aviation Authority (SCAA), Seychelles Port Authority (SPA), Red Cross and several district administrators.
The exercise facilitator Colette Servina of the Red Cross said the meeting was to be an open forum to discuss possible emergency scenarios and assess procedures.
She said it was an opportunity for delegates to become more aware of weaknesses and gaps in their emergency plans.
Principal secretary for environment and energy Wills Agricole said it will identify shortcomings that needed to be addressed and will call for a clear, correct and timely response from decision-makers in the event of a disaster or major incident.
"For example, in real life, a minor incident can escalate into one that affects not only the immediate area, but also a larger region which increases the likelihood of additional incidents.
A minor incident which could be handled entirely by an initial on-scene personnel could grow into an event where other disciplines must become involved," he said.
He said, in other words, personnel have to be brought to the scene to evaluate any secondary damage to infrastructure, such as roads and buildings, as well as to the environment.
Public information officers may be needed to liaise with the media and disseminate information to the public.
Utilities may be required to secure power lines in the area.
Heavy equipment may be required to both stabilise and remove debris, said Mr Agricole.
The tsunami contingency plan of 2010 drawn up after the Indian Ocean tsunami of December 2004 came under scrutiny at the 'Team Spirit' functional simulation exercise.
The scenario was that the meteorological office had received information on a major earthquake in the Gulf of Aden monitored by the Pacific Tsunami Warning Centre in Hawaii.
Such earthquake could trigger off a tsunami in the northern and western Indian Ocean.
The next course of action was discussed and priority areas identified.
It was stated that the meteorological office should immediately inform the DRDM which must simultaneously contact the principal secretary for environment who shall contact his minister and the cabinet, the police, SPDF, IDC and other relevant agencies to be on the alert.
IDC deputy chief executive Ronny Renaud said upon cross-checking such tsunami alert, all island managers will be contacted, asked to be on standby and await further instructions.