Fitness Seychelles: Unity relay on December 1-Relay for peace, raise funds for cancer study
16-November-2012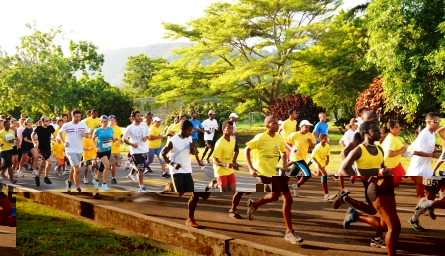 Giovanna Rousseau, manager marketing and promotion within the National Sports Council said this on Thursday afternoon during a press conference at the Stad Linite conference room.
Tessa Siu of the department of social affairs and Cancer Concern Association chairman Bishop French Chang-Him were also present to give details of their organisations' implication in the unity relay.
"We all have been affected in one way or another or know someone who has died of the disease called cancer.
There are also people who suffered from domestic violence at some point in their lives," said Ms Rousseau.
"This is why we have decided to get the social affairs department and the Cancer Concern Association on board.
We must all unite to raise funds and at the same time do some exercise and show solidarity to change minds, hearts and actions to bring an end to gender-based violence in our homes and communities," added Ms Rousseau.
She noted that the money raised through the sponsored forms will be given to the Cancer Concern Association and Bishop French said he was touched when he was approached by Miss Rousseau to join the relay.
"This forms part of our prevention campaign as the relay is a national thing. We will use the money to do a study on the occurrences of cancer in Seychelles and also build a centre where people affected by cancer and others can come and get information about the disease.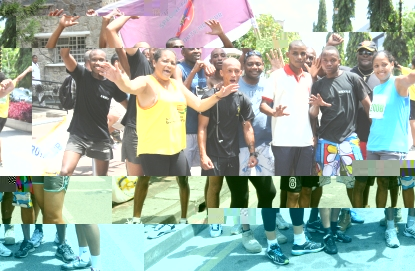 We will also have a shop in the centre selling cancer products, T-Shirts, caps and others," said Bishop French.
Ms Siu said "it is very important to raise people's awareness on gender-based violence which can not only cause injuries but also long-term heath diseases like cancer".
She noted that one out of four women and two out of nine men in Seychelles have suffered from domestic violence which has complexed impacts not only on those directly involved but also on children, friends, family members, work places, health care system, justice system, the economy and the country.
People who will not be taking part but want to have a form to look for sponsorship can contact Ms Rousseau on 2722333 to get one.
The race
Speaking about the race itself, Ms Rousseau said she expects 100 teams lining up for the relay and each team should have a maximum 10 members. They must all have at least two men or women for the 85-kilometre relay which will see the competitors run and walk along the coast of Mahe.
The race will start at Stad Linite at 7am and all involved – team members, officials, and sponsors – will run or walk from there to the Unity monument.
From there, the first runner in each team will run or walk for the first 10 kilometres before passing the baton to the next team member, who can cover any distance he/she wants.
A team can choose to have two runners for the first 10km, each covering 5km. Competitors can run or walk more than once during the relay.
All teams must have their own transport, and team members who are not running or walking should follow the race in their specified transport(s) with an official on board and a medical officer.
On reaching the Unity monument, competitors will run along 5th June Avenue and then head for Anse Etoile, North East Point, Glacis, Beau Vallon, Le Niol, Curio Road, Sans Soucis, Port Glaud, Grand Anse, Anse Boileau, Baie Lazare, Anse Royale, Anse Aux Pins, Pointe Larue, Cascade and Plaisance and Mont Fleuri.
Only one runner will run from Le Niol up to the Sans Soucis junction via Curio Road to avoid congestion on the narrow road.
When the last runner reaches the Unity monument, teammates will join him/her on the final leg of the race, which will finish in front of the Post Office.
All teams should have their own food, water and music if they wish in their chosen vehicle. Teams from working organisations, clubs and others have to pay a registration fee of R500, while teams from educational institutions pay R300.
On registering for the run, teams will be given sponsor forms, and the deadline to hand in funds collected is on November 24 – during the team managers' meeting.
This is because the organisers want to hand over the money collected to the Cancer Concern Association during the prize-giving ceremony right after the race – at 6pm at the Post Office. Each team are being asked to raise at least R5,000.
The prizes are as follows: R10,000 (winners), R8,000 (runners-up), R6,000 (third), R4,000 (fourth), R3,000 (fifth), R2,000 (sixth) and R1,000 (seventh).
Extra prizes of R2,000 will be awarded to the educational institution with the best time, the oldest team (when the ages of all members are added up), and the youngest team (when the ages of all members are added up).
There will also be five lottery prizes of R1,000 each which will go to teams who do not win any prize but have completed the run. Teams who are not present if their names are drawn from the bag will not win any of the five prizes. The overall first team will also receive a floating shield.
All team members must be present for the prize-giving ceremony. The past three winners of the Unity relay are Tryers comprising Roy Jean-Baptiste, Medrick Jean-Baptiste, Hervé Nicholas, Payet twin brothers Claude and Gordon, Marcus Jean, Samuel Vidot, Mirenda Jérémie, Annick Charles and James Marguerite in 2009 (4h54:53), East Coast comprising Simon Labiche, Samuel Moustache, Stephanie Underwood, Josue Victor, Simone Japha, Herbert Adrienne, Andrew Florentine, Randy Gappy, Andrew Anacoura and Tony Victor in 2010 (4h21:55), and Tazar – the special force unit of the defence forces – comprising Michel Souris, Kenneth Henriette, Alvin Mondon, Don Laramé, Cyril Freminot, Ian Botsoie, Jonathan Andre, Brian Souffe and civilians Maggy Harray and Katherina Morel in 2011 (4h23:14).
G. G.