Residents celebrate former President Rene's birthday-North East Point elderly home
17-November-2012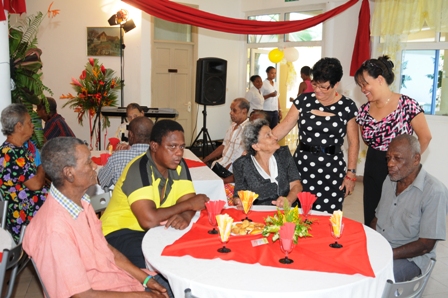 A special lunch was held for the occasion, at which the Minister for Health Mitcy Larue and her principal secretary Veronique Laporte were present.
President Rene's birthday is an annual event which is traditionally celebrated by elderly people across the country through various activities organised for them, of which the most popular is a gathering mainly for elderly people held at State House (see separate story on page 3).
At yesterday's event, among various animations such as musical and dance performances, those present were also able to pass on their good wishes for Mr Rene through the minister.
Addressing the guests, Minister Larue said the elderly are the pillars of today's society and have contributed much to bring the country to where it is today and every year they mark the occasion with a small activity.
"We really do appreciate all that you have done for us, and this event is just one way for us to say thank you to you for everything," she told the guests.
"Although the main focus of the event is to mark President Rene's birthday, the elderly who gather to honour him should also take some time to reflect on their contributions to this society.
There is so much that you can do such as sharing with the young your culture, way of life and way of doing things that will benefit them in their lifetime."
She also asked relatives and other people in society to take a little more time to come visit the residents of the home.
"I implore you, do not just offload your elderly into homes, and then forget about them. Remember that if it weren't for them, you would not be here today, so we need to be thankful to them," she said.
Idith Docteur accepted a basket of goodies from Minister Larue on behalf of all the residents, and then returned the gesture by giving a gift to the minister intended for President Rene, on behalf of all the residents.
All present sang a birthday song for Mr Rene, toasted to his good health and then enjoyed more entertainment followed by a delicious lunch.