UNODC head hails Seychelles anti-piracy role
17-November-2012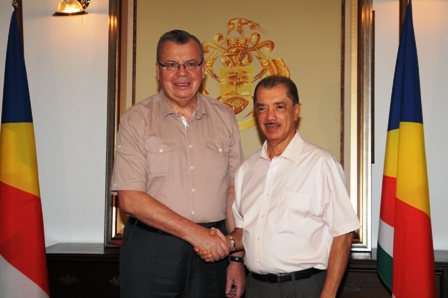 Speaking after he met Mr Michel at State House on Friday, Mr Fedotov said given our population and the number of suspected and convicted pirates we have in our jail, Seychelles relatively plays the largest role among all countries in the anti-piracy effort.
"I was very pleased with the President's commitment and support for the UNODC," he said, explaining the purpose of his mission to East Africa – including Seychelles – is to see what more can be done to support countries in the region to fight the scourge of piracy off the coast of Somalia.
"We are trying to help countries – including Seychelles. I would like to commend the contribution of Seychelles in terms of prosecuting and jailing pirates.
If you see the number of pirates being held in Seychelles and compared to the population of this country, of course that should be the greatest country which takes very seriously the fight against piracy.
We fully understand that, that is a very heavy burden for Seychelles hence we will continue to encourage other countries in the region to do the same, to follow Seychelles, but also we are going to insist and to encourage that the pirates should be transferred to Somalia to serve their sentences," said Mr Fedotov.
Present at yesterday's State House meeting were the Minister for Home Affairs and Transport Joel Morgan, the Minister for Foreign Affairs Jean-Paul Adam and the regional representative for the UNODC Loide Lungameni, UNODC's regional coordinator Alan Cole and the UNODC programme management officer Sergey Peresada.
Mr Michel thanked the UNODC for the support Seychelles is getting in the fight against piracy, such as the construction of a prison building for pirates at the Montagne Posée prison as well as the organisation's contribution towards projects such as the proposed juvenile detention centre.
"We can work together to further strengthen our strategic partnership, and encourage other countries of the Indian Ocean region to share the burden of the fight against piracy.
Seychelles remains committed to the work of bringing the pirates to justice and we will continue to put emphasis on the importance of targeting the financiers of piracy," said Mr Michel.
He and Mr Fedotov also discussed areas in which the UNODC can develop in its support to the Seychelles judiciary, the social renaissance programme, as well as reinforcing anti-money laundering initiatives.
After Seychelles, Mr Fedotov will travel to Puntland, Somalia, to lay a foundation stone for a new prison for convicted pirates.
"The prison will be completed in October next year and that would enhance the capacity to absorb more pirates, including from the Seychelles," he said, expressing confidence that convicts transferred there from Seychelles will serve the full terms of their sentences.