STA and ISPC hold 4th culinary contest for hotel staff-Winners get five-day holiday in Abu Dhabi, 500 euros cash
17-November-2012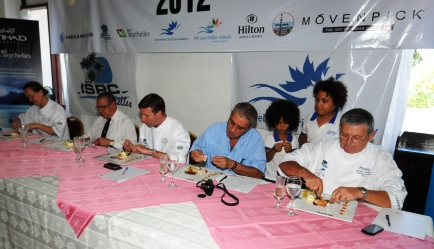 Sponsored by Air Seychelles and Etihad Airways, Cable & Wireless, and Northolme Hilton, the finals of the contest was spread over three days – from Tuesday to Thursday – and each day a panel of well-known connoisseurs of fine cuisine judged the best starters followed by main course and finally dessert.
Patrick Barbé of Chilli Bar, La Louise, won top prize for the main course, while Joel Constance of La Plage Restaurant, Beau Vallon, took the award for starters and Evans Zialor of Coral strand Hotel won for dessert.
They have each won a five-day holiday in Abu Dhabi sponsored by Etihad and their plane tickets have been sponsored by Air Seychelles.
They also each won 500 euros cash. Zialor's cash prize was sponsored by the ISPC, while the other two winners got theirs from Cable & Wireless.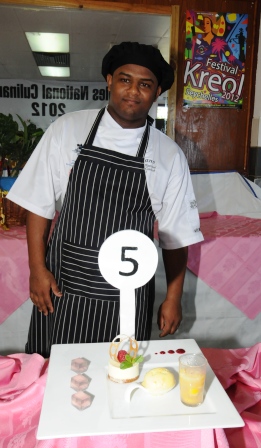 The judges were STA principal Flavien Joubert, well-known local restaurateur Henderson Philo……..
Philos Eamon, former owner of 'Chez Philos', photographer Gilbert Pool, Christelle Verheyden, coordinator of the culinary contest and food designer at La Plage Restaurant, and Lionel Rigolet, owner of Comme Chez Soi Restaurant in Brussels, Belgium.

Chief judge Rigolet has been awarded two 'Michelin' stars and is also ranked high by Le guide Gault Millau.
A special guest was the principal of Shannon College of Ireland, Philip Smyth. The STA has a long relationship with Shannon College and Mr Smyth is here as chairman of the examination board, with all papers to be corrected in Ireland.
The objective of the culinary contest, of which Mr Pool has been a judge for the third year running, is, according to ISPC chief executive Alfred Fourcroy, to enable chefs to create dishes on their own and using their own initiative and talents.

Mr Joubert hailed the high level of the contest and said the three winners are now expected to be the "stars" in the kitchen for the grand gala dinner to be held early next year.
He said profits from the fiesta will fund a documentation centre to house photographs and other souvenirs of the STA's debut and achievements over the years.
Seychelles Nation was present for the third day of the contest when dessert was prepared and sampled at the STA. Ian Ladouceur of Hilton Northolme came second and Sabrina Ladouceur from the Four Seasons Resort finished third.
Like others who came second and third on previous days, they also won prizes, mainly kitchen equipment, such as sets of knives and bowls.
The winning dessert as presented by Evans Zialor comprised chocolate delight, filon croustillant, violet jelly and fruits served with pink pepper. Very imaginative indeed!