Study to find best ways to boost dam's capacity
19-November-2012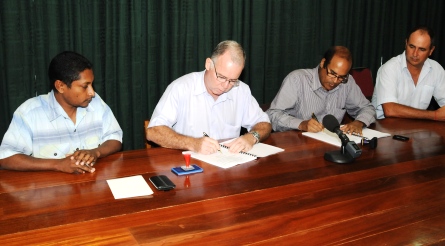 The executive chairman of the Public Utilities Corporation (PUC) Philippe Morin on Friday signed the R9.5 million contract with Kishan Padaruth, managing director for Gibb Mauritius Ltd – the company contracted to carry out the study.
This was during a short ceremony at the Electricity House at Roche Caïman.
The study, which is to start on December 13, is being funded by the African Development Bank (ADB) and is expected to last nine months.
Speaking after the signing and exchanging the documents, Mr Morin said the study forms part of the PUC's continuous effort to seek ways to increase the country's water storage facilities – something which is very difficult in view of the island's topography which does not allow for easy raw water storage.
He said a more efficient and less costly option is by increasing the La Gogue dam's water storage capacity.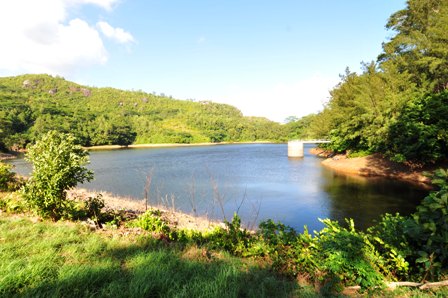 Mr Morin said the study will determine the best way to increase the dam's capacity, will assess its water treatment facilities and piping system, and determine the best way to carry out the expansion project, its impact on the environment and its cost.
Mr Padaruth thanked the PUC for awarding his company the contract which was tendered internationally.
Gibb Consulting, Design and Management firm produced the Seychelles water development plan which was presented to the government and other stakeholders last year.
The aim of having such a plan is to address recurring water shortages and fulfill the increasing water supply needs of Seychelles.