Hindu's Diwali celebrations draw large crowd-• Former hostages Tambara and Songoire among special guests
19-November-2012
Diwali endorses the victory of good over evil and darkness and symbolises that all humans belong to one big family.
Saturday's celebration in Seychelles, where Diwali has been celebrated for 10 years now, was as usual organised by the National Hindu Council
The crowd gathered at the swimming pool, though predominantly Hindus, also comprised a significant number of persons from other faiths.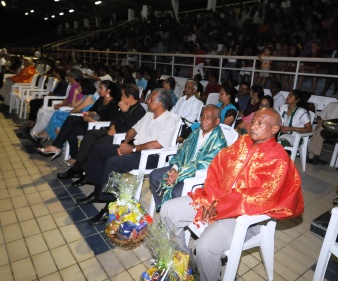 Former hostages Rolly Tambara and Marc Songoire were among the special guests, who included former President James Mancham, ministers Peter Sinon and Idith Alexander, chief justice Egonda-Ntende and British high commissioner Linda Skoll.
They witnessed the traditional lighting of the lamp, which according to Hindu custom is a rite performed every morning in all households of believers. They all received an Indian shawl as a token of the occasion.
In a Diwali message read by Minister Alexander, President James Michel noted that while this was a time of prayer and rejoicing, it was also an occasion to consider the needs of others.
He said Seychelles is blessed to have people of differing faiths and backgrounds living in harmony.
President Michel's message expressed the hope that the social cohesion is not perturbed by the forces of darkness and division.

After the traditional lighting of the lamp by the wife of Indian high commissioner, Mrs Darlong, Ms Alexander and some other ladies, Nirmal Jivan Shah on behalf of Hindu Council chairman Pravin Darrad, who is mourning the passing away of his mother, told the gathering that Diwali is a five-day celebration that normally falls between mid-October and mid-November.
High commissioner Thanglura Darlong noted that Diwali goes back 5,000 years. He expressed the hope that the spirit of light, symbolised by Diwali, shall continue to achieve benevolent goals.
Welcoming former hostages Tambara and Songoire, the chairman of the organising committee, N. Ramani, called them "brave heroes", who had returned from darkness in exile.
He said they had endured much torment for over a year while far from their families and countrymen, but as "brave heroes" they remained resilient and returned to their loved ones.
The occasion was very emotional and appreciated by all present.
A prominent member of the Baha'i faith, Felix Charles, was invited to say prayers and he implored the Almighty for enduring world peace.

Other highlights of the celebration were singing, dancing, fashion show, emanating from various parts of India, and a firework display.