'Assembly should have bigger say in budget and public finance'
19-November-2012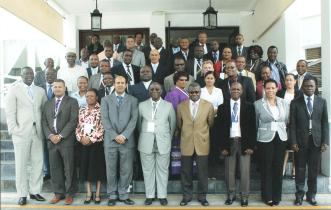 FPAC chairman David Pierre, who is also the leader of the opposition in the National Assembly, made these remarks after attending a seminar on the role of parliament in promoting good governance, public finance management and accountability.
Mr Pierre headed a delegation of four FPAC members at the seminar organised by the African Development Bank held in Cape Town, South Africa recently and attended by FPAC members from several other African countries.
The other members who attended the seminar are Nichole Barbé, Sebastien Pillay and Lenny Lebon.
Speaking on the outcome of the seminar, Mr Pierre said among several issues which came out very strongly in the debates was the role of parliament in the national budget.
"This is a very important issue because the parliament debates and approves the budget," Mr Pierre pointed out.
He said the delegates strongly called for governments to give parliamentarians at least two weeks to prepare their reply after the finance minister had presented the budget.
"We strongly believe that parliamentarians need more time to go over the budget carefully so as to give the people a reply and a debate which is worthwhile, an issue which I will push strongly in my budget reply to ensure Seychelles starts to look in that direction," said Mr Pierre.
He noted that countries like South Africa have already adopted the process.
Delegates also observed how the whole budget process is carried out and followed a parliamentary session in progress in the South African parliament.
"We have learnt a lot which if we can adopt and apply we believe will benefit our people and our country," added Mr Pierre.
There was also call for more consultations between the FPAC and the ministry of finance in relation to different aspects of the budget, an issue on which Mr Pierre said he will put strong emphasis.
Delegates also apprised of tools and strategies used to fight corruption and the key role of parliament in the process.
The parliamentarians had the opportunity to assess which of these tools and strategies were better suited for their specific parliaments.
Mr Pierre described the seminar as "very fruitful" in view of the importance of the issues discussed in relation to good governance, better management and accountability with regard to public money.

"It was a great opportunity for FPAC members to broaden their insight on their oversight role", said Mr Pierre.
He further noted that among some of its strongest resolutions the seminar called for:
- African parliaments to ensure their FPACs have the resources and proper capacity to ensure high oversight role are more proactive when dealing with the auditor general report;
- Parliaments to have parliamentary budget office which will liaise with government in producing the budget;
- The auditor general office to be totally independent with the necessary resources to produce an effective report.
Delegates also discussed ways to work together and help each other on issues of mutual interest and sought to set up a network among their respective FPACs.