Investors invited to bid for tourism project on Ile Soleil
19-November-2012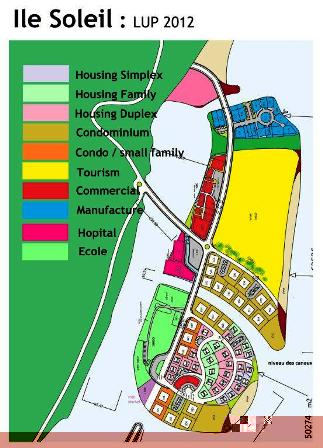 The tender for the project was launched recently by the chairman of the 2020 Development (Seychelles) Ltd, Barry Faure, who is also the chairman of the Seychelles Tourism Board (STB).
Located off the south-east coast of Mahé, Ile Soleil is a reclaimed island with a total area of approximately 123,000m2.
The area demarcated for the hotel development amounts to 29,920m2 with the sea as its main view.

Its close proximity to the Seychelles international and domestic airport positions it as a transit hotel.
But the main attribute of the island is its inspiring concept of "Nouvo Zil, Nouvo Lavenir" which is one of the main facets of the Seychelles 2020 vision, a dynamic vision of the country articulated by its internationally respected President James Alix Michel, who has steered this peaceful, stable and democratic country to economic prosperity.
Tourism in Seychelles has seen continued growth since 2010 and its industrious chief executive-turned minister, Alain St Ange, and his team, have known how to capitalise on the classic beauty of these pristine islands to bring out to the world the well-guarded secrets of the Seychelles brand of tourism.
Investors are thus well advised to jump to the opportunity that is being offered by Seychelles.
Addressing the guests at the tender-launch ceremony, Mr Faure said developments on Ile Soleil need to be based on nature (a sustainable ecological development), culture (preserve our cultural heritage) and education (promote responsible living values in a fast-changing world).

"The tourism project on Ile Soleil needs to be nature-based.
We need to ensure that the environment is respected at all times, even during the design phase, through to the construction and post-occupancy stage," he said.
The chief executive of the Seychelles Investment Board (SIB) Sherin Renaud, stated in a press conference after the launch that Seychellois investors are being invited to take part in the hotel project or to enter into a joint venture with a strategic foreign partner.
Until November 23, 2012, the tender documents are available for purchase at SIB and for only US $500 foreign investors may receive their dossiers by post.
For any enquiries and further information on this tender, interested parties are advised to get in touch with the Chief Executive Officer, Sherin Renaud, via telephone on +2484295502 or via email at This email address is being protected from spambots. You need JavaScript enabled to view it. .
Contributed