UP-Close … with Alrick Agricole -Manager of Discovery Agri Tour and recipient of Trip Advisor Certificate of Excellence for 2012
20-November-2012
Alrick Agricole was overjoyed when he received the 'Certificate of Excellence' from Trip
Advisor, which is a world renown online travel research company which empowers users to plan and have the perfect holiday, comment about their holidays and rate the destinations and services.
Discovery Agri Tour, Alrick's business, received a five point rating -- the highest -- based on the number of visitors who posted positive comments on him and also visited his website for information when planning their holidays.
Only two years since he launched himself in the guided tour business and working very hard to make it a success, Alrick was really not expecting such a recognition.
When I met him recently, the young man was all smiles and overjoyed to talk about his great achievement and how it all started.
"I have worked hard for the past two years to give my business the recognition I believe it deserves and today all my effort and hard work have paid off and I am happy. I dedicate the recognition to my family who has given me all the support I need," Alrick said.
"I know I have dedicated myself to what I enjoy doing but I was not expecting international recognition, but I am really happy," said the young man.
"The recognition is proof that people out there unbeknownst to me have been appreciating my hard work," he said.
How it all started…
Alrick started his tours business in August 2010. Before that, from 2000 to 2009, the young man from Mont Plaisir, Anse Royale, a former athlete who adores outdoor activities, worked as a tourist guide at the St Anne Resort. In 2009, he moved to Cousin Island where he continued to be a tourist guide but there things were more quiet and he had ample time to learn about the flora and fauna of Seychelles as well as Cousin island in particular.
After a year there, Alrick decided to move on once again.
"I wanted to be a gym instructor and I tempted my luck at the newly opened Ephilia Resort," he said.
Unfortunately when he got there two other candidates were there before him and he was encouraged to try his luck as a pool boy instead, much to his disappointment.
Though he was not so convinced, he decided to take the plunge but he stunned visitors with his knowledge about Seychelles.
"All the visitors encouraged me to move on and do something else with the knowledge I have. Your place is not by the pool they would say," Alrick recalled.
He said these remarks got him thinking a lot and it was not long before guests started to ask him to take them on sight-seeing and guided tours around Mahe on his days off.
"From then on I said to myself that this was great. I was putting my knowledge and skills to good use and I was not only happy about that but I was proud of myself for making visitors to our shores happy and go back home with great memories and something to talk about and recommend to their friends," said Alrick proudly.
Discovery Agri Tour
In August 2010 Alrick took the step to go through the necessary formalities and register his hobby and great passion as a business under the name Discovery Agri Tour.
Admittedly Alrick described those first few months as quite difficult.
"I had left full time employment to launch myself in a new business and people barely knew me but I was convinced I was going to create a name for myself though I knew then that it was going to take some time," he recalled.
During those months Alrick remembered going along beaches to talk to visitors and advertising his business to very often wary listeners.
"Very few visitors were convinced but all the same I had a few clients here and there," he said.
But seriously Alrick said he was not once disappointed.
"I always said to myself that things will get better and I needed to be patient," he mused.
The good news for Discovery Agri Tours came some five to six months later when he received a letter from Trip Advisor.
"It was the first time I heard of Trip Advisor," said Alrick surprised.
In the letter Trip Advisor encouraged him to build a website so that he can be registered as one of its members.
"I was excited and overjoyed," Alrick said.
Little did he know that all along visitors to Seychelles have been posting some very good comments about him and the service of his tour business was being recommended to friends over the internet.
From then on Alrick visited the Trip Advisor website and went on to read all the past and present comments that visitors have been posting about him.
"I was overwhelmed with joy and pride," he reminisced.
With only one vehicle at that time Alrick soon had his website constructed and he set about structuring his business as the number of visitors requesting the service of Discovery Agri Tours through his website increased.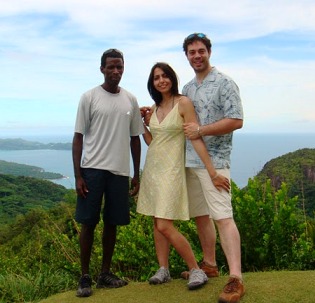 Among the services Discovery Agri Tour offers include hikes and trails for both short and long distances to Trois Frères, Anse Major, Morne Blanc, Copolia, Mission Lodge, Mont Plaisir...., half-day special excursions which include snorkeling and barbecue lunches, visits of traditional homes and families, private excursions, airport pick-ups and drop offs…
Two years later Alrick is much happier. He goes to meet his clients and take them on tours of Mahe and the other islands…Praslin, La Digue, Cousin, Curieuse, St. Pierre, Félicité… But he noted that the highlight is the tour of Mahé.
But how does he go about organising everything for the visitors?
Through the different packages he has come up with, Alrick said his clients are satisfied.
"Everything is easy. I book their trips and ensure that they spend the most enjoyable time," he said excitedly.
Alrick said he goes about arranging day trips and overnight stays for clients on Praslin and the other islands all the time focusing on making the visitors' satisfaction his topmost priority.
He noted that on countless occasions he stays over with them.
Alrick pointed out that the clients he gets are often people who prefer an exclusive time either as couples or family.
"Many visitors don't like to go out in large groups; they enjoy going out and discovering Seychelles in a private way," remarked Alrick.
"This is why clients book their holidays very much in advance -- six months, nine and even a year -- to ensure that I will take them on the tour they want," he said.
Alrick said his clients are often couples and families -- small and large -- with the largest so far being 19 members.
In such instances he organises for a bus from one of the local DMCs.
He admits having learned a lot about the different visitors who request the service of Agri Tours.
Apart from the different tours Alrick also ensures that the visitors have a taste of the real Creole way of life and this includes sampling different traditional Creole dishes.
Alrick noted that many visitors are curious to know and eager to learn as much as they can about the Seychellois way of life and upbringing.
Visits to his family home are organised to make this a reality for the visitors and at this point Alrick expressed his gratitude to his family who gives him all the support.
Because he operates his business from home, Alrick said he counts a lot on his family for support.
"My wife takes care of all the bookings and handles all the e-mails and for this I am grateful to her," he added.
He admitted that he is not a person who is keen to be posted in front of a computer for long hours.
"I am an outdoor person," he laughed.
Two years on Discovery Agri Tour now has three vehicles and Alrick said he wants to recruit at least two people who are passionate about nature like him and have at heart this inner feeling, desire and willingness to share with visitors those aspects of our country which they have come from far away to relish.
Admitting that this is no eight to four job, Alrick said a person deciding to join this venture has to be passionate about it and think about his clients' interests before his own.
"Just think you are on the point of completing a day's work and taking a client to his hotel when he tells you he wants to see and admire a sun set!" he laughed.
Alrick pointed out that all his clients remain in touch and they are all his friends.
"It's an overpowering feeling when you read the comments about you and realise that all your effort , energy, and time put in an endeavour to ensure visitors are happy is a success," Alrick said.
Alrick the ordinary man
Being the owner of his business and therefore always on the move does Alrick have any free time?
"I am always with the family and each time I take visitors to the family home, family members are always present and it is thanks to them that everything is possible," he said laughing.
But Alrick ensures that he keeps Sundays free and organises himself to have a couple of days off as well.
Alrick, who enjoys spending time quietly at home with wife and other family members, says being an outdoor person he likes to be among nature, clean around the house, run errands, go shopping for fresh fish and groceries though he does not like to cook but enjoy home cooking.
Alrick is convinced that five to ten years from now he sees himself expanding and why not be another DMC.
"All is possible when one is determined, focused, and does something from the heart," he said.
Alrick noted that for now he gets all his clients from Trip Advisor.
His aim is to continue to work hard and develop his business and keep visitors talking about the good experience they've had with Discovery Agri Tour.
by Marie-Anne Lepathy