11 coaches complete 11-day tennis course
20-November-2012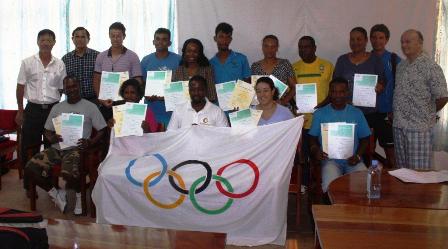 Socga president Antonio Gopal, Socga secretary general Alain Alcindor, National Sports Council's marketing and promotion manager Giovanna Rousseau, Seychelles Tennis Association chairman Charlie Ng, course director Prince Madema and French coach Frédéric Canale were present at the ceremony.
After thanking the coaches for making the first steps to follow the course, Mr Gopal encouraged them to pass on to others the knowledge they gained.
He also reminded them that they can benefit from other higher level courses in the future.
Course director Prince Madema told the delegates they should feel more equipped when teaching the kids and that they are important in the country's sports development.
"Although Seychelles is a small country, with perseverance more talents can be produced in schools. The more kids you have playing sports the higher your chances of getting good talents.
You are therefore very important in your country's sports development," said International Tennis Federation (ITF) development officer Madema who has been coming to Seychelles for the past 10 years on working visits.
He added that after finishing marking the exams the delegates wrote on Friday morning, the results and copies will be sent to the Olympic Solidarity in London before level one results are forwarded to the delegates.
STA chairman Ng and Clyvie Delpech, one of the course delegates, thanked Socga and the Olympic Solidarity for sponsoring the course.
Delpech told Mr Madema that they will not disappoint him in their coaching career.
The delegates were firstly involved in the 'play and stay' course which is compulsory before following the level one course. In the 'play and stay' course, the coaches worked on how to introduce tennis to beginners while the level one course is for the intermediate and advanced players.
G. G.