Sale of land on Ile Soleil to start soon
23-November-2012
This follows the signing of a contract between the 2020 Development (Seychelles) Ltd (2020DC) and Switch (Pty) Ltd for the promotion and marketing of the reclaimed island off the south-east coast of Mahé.
Switch, a marketing, graphics design and web development company, was awarded the contract through a national tender process earlier this year.
The chairman of 2020DC Ambassador Barry Faure and Guy Savy, a director of Switch, signed the contract in the presence of representatives of both parties at the chambers of Chetty & Hoareau Attorneys, at MS Complex, Victoria.
Recently, 2020DC launched the first phase of the promotional campaign for Ile Soleil when it contracted the Seychelles Investment Board to promote and market the Ile Soleil hotel development, as well as to coordinate its tender. This tender is still open, and both Seychellois and foreign investors are being attracted.
"We are encouraging Seychellois investors to take the lead on this project as it is an excellent opportunity for new development in the country," said Ambassador Faure following the signing ceremony.
"The Ile Soleil project is a new concept of living for Seychelles. It is where residential properties and light industrial and commercial properties will be able to co-exist in harmony with nature. It is also where we want to preserve our cultural heritage, while nurturing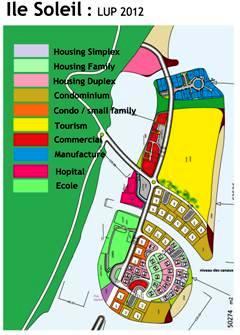 responsible living, a peaceful and stable community and where our moral values are exemplified," added Ambassador Faure.
The Switch contract is for the promotion and marketing of the rest of Ile Soleil or over 70% of its territory as well as coordinating the sales process. These consist of residential properties either for single dwelling (one unit) or duplex dwelling (two units in one building), private condominium properties, artisanal properties, and commercial properties.
"We are extremely delighted to have the opportunity to partner with 2020DC on this unique project. The fact that 2020DC opted to outsource this project to a local marketing company, is a positive development for our industry and their decision should be commended as other local production companies will also benefit from this decision," said Hervé Chang-Yunn, divisional manager for Switch.
There are 30 parcels of land which will be sold to first-time buyers. Applicants from Anse Aux Pins and other districts and islands in the country will be able to receive more information about the different plots as well as start applying for a plot of land towards the end of January 2013, when the marketing campaign is due to start.
Similarly, the tenders and/or auctions of the other types of development on Ile Soleil will be launched in January 2013.
In view of the scarcity of land, private condominium properties have been earmarked for private Seychellois developers or corporate bodies with Seychellois majority shareholding to contribute in building housing stock while maximising land use.
The artisanal properties will be offered with preference to allocate such areas for small Seychellois enterprises that are currently operating in areas not conducive for such activities which as a result hinder their growth and development.
These properties are being offered to businesses who are first-time buyers of business properties. In the same vein, the commercial properties will be offered to small Seychellois entrepreneurs.
Ile Soleil is part of the "Nouvo Zil, Nouvo Lavenir" project launched by President James Michel in March 2011 during the Seychelles Expo 2020. It is a project that seeks to realise the themes of nature, culture and education, which are essential to the New Seychelles.