Les Mamelles re-development project-Residents get keys to new apartments
26-November-2012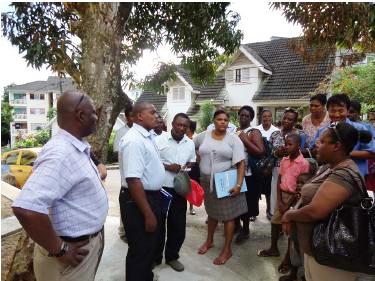 This follows completion of work on sixteen two-bedroom units at upper Les Mamelles as part of a bigger re-development project for that district.
The aim of the project, started in the year 2000, is to pull down the old colonial-style shelters which have served their purposes and are now out of touch with the modern way of living.
There is still an outstanding eight additional units to be completed for the overall project to be fully realised.
The much awaited handing over of the keys took place last week in the presence of the member of the National Assembly for Les Mamelles Emmanuel Fideria, and was coordinated jointly by representatives of the Ministry of Land Use and Housing, HFC (Housing Finance Company), PUC (Public Utilities Corporation), the district authorities and the building contractor, China Shenyang.
Addressing the gathering, Mr Fideria expressed his thanks to the Seychelles government,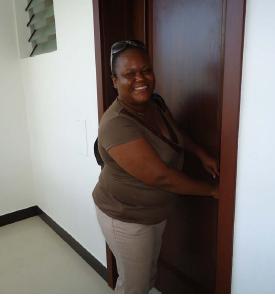 particularly the Ministry of Land Use and Housing, and the government of the People's Republic of China.
Mr Fideria shared the joy of the various families who had gathered and called on all of them to take full ownership of the apartment block through the practice of respect for their neighbours and the promotion of good values.
He urged all present to properly maintain their respective flats and ensure that the place becomes a real home for everyone.
He appealed to them to avoid disturbing their neighbours with loud music and other forms of inconsiderate behaviours.
China Shenyang gave its assurances to the new tenants that in view that they would be remaining on site to continue working on the next phase of the project (the eight additional units), they would be happy to attend to any issues linked to the building.
The families were delighted with their flats, equipped with two bedrooms, a modern style bathroom, living room and partial marble top kitchen. The floors are already tiled throughout the flats.
One tenant exclaimed that this was everything she wanted. The only concern, she said, was lugging her personal belongings up to the third floor where she is staying.