Seychelles marks 16-day campaign against gender violence
27-November-2012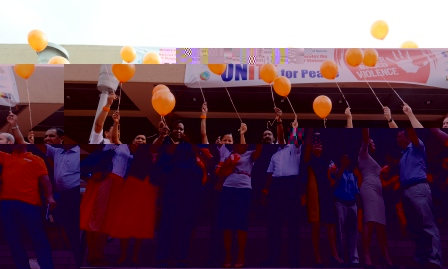 Every time an official stereotypes a survivor as a lost cause, and sends them away without any help – our society also again re-abuses that person.
This was the message Social Affairs, Community Development and Sports Vincent Meriton sent out yesterday when he officially launched a 16-day campaign aimed at raising awareness on gender-based violence. The campaign is aimed at eliminating all forms of violence against women.
Every year, Seychelles and the rest of the world come together to mark the 16 days of activism against gender violence, which starts on November 25 and ends on December 10. Although the first day of the campaign should have started on Sunday in Seychelles, it kicked off yesterday instead.
The campaign has been used as a strategy by individuals and groups around the world to end violence against women by raising awareness about gender-based violence as a human rights issue at local, national, regional and international levels.
It is also aimed at establishing a clear link between local and international work to end violence against women, demonstrate the solidarity of women around the world working against gender violence, and create tools to bring governments to take measures to eliminate such violence.
A small ceremony held at the International Conference Centre yesterday afternoon marked the official start of the campaign. Present for the occasion were various ministers, principal secretaries, chief executives and other high ranking government officials, as well as members of the diplomatic corps.
Addressing the guests, Minister Meriton said violence against women and girls remains the biggest concern around the world.
"Here in Seychelles, women represent 80% to 90% of people seeking help from my ministry for domestic violence. The majority of victims of sexual assaults are predominantly women and girls," he said.
"The problem of gender-based violence is growing; we are responding to more and more cases every year, and receiving reports of more extreme forms of violence, which have sadly even ended in brutal murder and the unnecessary loss of life in one too many cases. We need to come together to show our support for an end to violence, because gender-based violence and violence against women and girls is not an individual concern, but rather a societal concern."
As a way of expanding the 16 days campaign to last the whole year, the United Nations (UN) has announced the 25th day of every month as Orange Day. Orange Day was introduced to the world arena by UN secretary general Ban Ki Moon and assistant secretary to UN Women director Lakshmi Puri, in July this year.

Minister Meriton appealed to every man, woman and child to wear orange on the 25th day of every month as a show of unity in the stand against gender-based violence.
"By wearing orange on this day, you will express your solidarity with survivors and help to raise awareness about the cause," he said.
To this effect, Minister Meriton received an orange T-shirt from a representative of the gender secretariat Tessa Siu. All present also received orange T-shirts, orange balloons and an orange – the fruit.
Sixteen people with balloons then stood at the entrance of the conference centre and released their balloons – as a symbol of the 16 days of the campaign, at the tune of local artist Mercenary's hit song on violence against women Vyolans Domestik.