Australia keen to compare notes with us
01-December-2012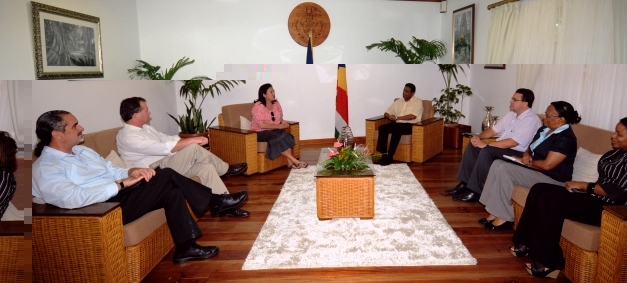 That country's high commissioner Sandra Vegting said this at State House after introducing to Vice-President Danny Faure two statisticians who are here at our request to see what they can contribute to the way we gather and compile data.
She said every time she comes here she gets many ideas to share with her colleagues in Australia because Seychelles also has a lot to offer from its experience for example with regard to information on climate change.
The two men are Graeme Brown who works for the Australian Bureau of Statistics and Tim Gilbo, a consultant to the Australian government.
Ms Vegting recalled that an Australian from her country's treasury for over two years recently helped to develop the forecasting and analysis for the Ministry of Finance where "he did a wonderful job thanks largely to the political leadership in Seychelles".
She noted that unlike the case with many other countries, global organisations like the International Monetary Fund trust Seychelles' figures and they do not have to crunch their own.
She said Mr Faure requested for a team to help bolster the Seychelles Bureau of Statistics last year and "here I am now with Graeme and Tim to look at practical ways in which Australia can extend the sort of assistance that the Vice-President asked for".