Plant enthusiasts celebrate 10 years of conservation action
03-December-2012
The group came into being in November 2002 through the keen interest and enthusiasm of a small group of people who wanted to promote the importance of plants in Seychelles' environment.
They came together from a range of backgrounds, locally and also from abroad.
Among the founding members were Didier Dogley, Lindsay Chong Seng, Willy Andre, Frauke Fleischer-Dogley and James Mougal; and backing this group was Tony Kendle from the Eden Project in UK, as well as Karl Fleischmann from the Swiss Federal Institute of Technology (ETH) in Zurich, Switzerland.
Soon to join were several other local members and two PhD students from ETH, Christoph Kueffer and Eva Schumacher.
The synergies brought about by collaborative research projects between the departments responsible for the environment, local environment experts and overseas partners gave birth to this plant action group that has established a strong position in the field of plant conservation while also having a lot of fun.
PCA remains a voluntary membership organisation (an NGO), run by an executive committee elected annually. Presently the committee is made up of Lindsay Chong Seng as chairperson, Katy Beaver as secretary, Hugh Watts as treasurer, and James Mougal and Chris Kaiser-Bunbury as executive committee members. It has a membership of 32 persons, including 16 active local members, plus overseas and honorary members. We meet monthly and we are part of the LUNGOS network.
Our main aim is to further plant conservation in Seychelles and to work on projects that promote conservation action and awareness about plants, especially native plants. We do this through a wide range of projects and other activities that include:
• Plant species identifications
• Advice on vegetation restoration/rehabilitation
• Vegetation surveys and management plans
• Research and monitoring
• Conservation action for plants
• Capacity building
• Raising awareness about plants
• Field trips for members and plant enthusiasts

A few of our main on-going projects include the rejuvenation of the National Herbarium at Seychelles Natural History Museum and the development of a virtual herbarium; plant monitoring and vegetation rehabilitation on North Island; and assisting with research into the effects of restoration of glacis habitats on plant-animal interrelationships.
We organise six field trips a year to various and sometimes remote sites that always reveal aspects of plant life new to us in some way.
In 2011 we commemorated the UN Year of Forests by producing a series of forest plant articles which were published in 'Today in Seychelles' newspaper during the year. These will soon be brought together as a booklet. We contribute actively to the national strategy development process through our representation on the GEF Biodiversity and Biosecurity Steering Committees and other fora.
Our bi-annual newsletter Kapisen can be found on our website - www.pcaseychelles.org along with more details of our activities.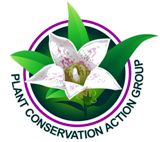 This November's issue of Kapisen, celebrating our 10th anniversary, is particularly enticing. Printed copies will soon be available at the Natural History Museum.
For further information, email: This email address is being protected from spambots. You need JavaScript enabled to view it. ; telephone: 4241104 or 2574619
Contributed by the Plant Conservation Action group