East African military officers discuss peace support operations
04-December-2012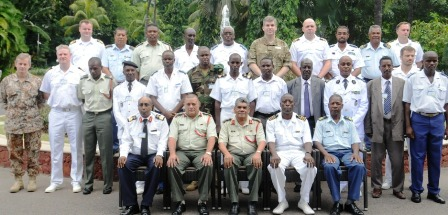 Besides Seychelles, the course at the Berjaya Beau Vallon Bay Hotel for the Eastern African Standby Force Coordination Mechanism (EASFCOM) is being attended by officers from Somalia, Sudan, Burundi, Kenya, Comoros and Rwanda.
Also present at the opening ceremony yesterday were officers of the Nordic Maritime Support Organisation – Finland, Norway and Denmark. Norwegian captain Helge Tonning said Denmark already has a frigate in the anti-piracy squadron in the western Indian Ocean, while Norway will have one next year.
The course was officially opened by the Chief of Defence Forces Brigadier Leopold Payet, who said the East Africa region faces a huge maritime challenge that, if not promptly and adequately addressed, can have devastating consequences for the region's economy and the wellbeing of its people.
He said activities of state and non-state actors along the east coast of Africa along the Indian Ocean have been increasing at an alarming rate, posing numerous maritime challenges to the region.
The prominent ones among these are piracy and armed robbery, pollution and dumping of toxic wastes, illegal, unregulated and unregistered fishing, smuggling and illegal trafficking of arms, drugs, human beings and contraband, illegal immigration and emergencies at sea.
Brigadier Payet said if appropriate action is not immediately taken, aid may not come to those in need soon enough.
He added that this means freight will further escalate, with attendant negative effects on the economy. Proliferation of illegal arms will lead to increased capabilities of terrorist groups and other illegal factions which may further destabilise the region.
Likewise, Brigadier Payet said, pollution and dumping of toxic waste may damage the coastal environment and kill marine life, resulting in loss of income for fishermen, lack of food resources for coastal residents and a fall in income from tourism.
He told delegates that the existing maritime challenge poses additional complications on the conduct of regional peace support operations as it impacts heavily on operational administration and logistics.
"Transportation by sea is still the most effective means to move considerable quantities of personnel and material from one point to another, whereas sustainment of peace support operations and the ability to project power ashore is crucial to the success of a mission."
Brigadier Payet said the East African Standby Force (EASF) structures have been approved by the policy organs and all structures have been tested in EASF exercise except maritime.
He noted it is encouraging to observe that the objectives of the training provides an opportunity to train and test the maritime force headquarters organisation which is the heart of the envisaged maritime component.
EASF will continue to conduct courses until a pool/roster is achieved and the best performers will be earmarked for future advanced training and command of the EASF maritime task force when it becomes operational in 2015.
Lt Colonel Lawrence Gituma, who heads the East African unit, conducted video shows of maneuvers at sea, including boarding of vessels, search and rescue and other operations.