Budget 2013 aims to speed up growth-. As it ensures social fabric is preserved
05-December-2012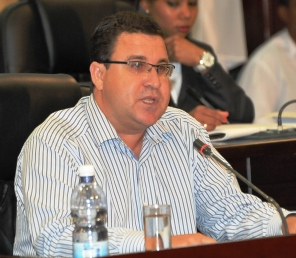 Minister Laporte presenting the Budget Address 2013 to the National Assembly
The Minister for Finance Pierre Laporte said this in the National Assembly yesterday when he read his budget speech in which he announced that from July 2013 salaries of all employees from SG1 to SG6 grades will increase by 6% and those of employees in grade SG7 onward will go up by 3%.
He said businesses will be expected to contribute through a Corporate Social Responsibility (CSR) concept whereby businesses act to balance their economic growth by contributing to the sustainable, social, and environmental development of the country.
"Today many businesses generously contribute to their communities or toward good causes, either through direct funding of social projects or through donations and sponsorship. But corporate social responsibility should be by all and not only by some.
"It is in this spirit, and in order to get businesses to give back to the community, that I propose the introduction of a CSR contribution, which will be applied on all businesses which make a turnover of SR1 million and above at rate of 0.5% equivalent of turnover. This concept of CSR is one that is practiced in other countries, such as our neighbour Mauritius," he said.
He said policies and monitoring mechanisms need to remain strong and effective while elimination of subsidies on liquefied petroleum gas by the Seychelles Petroleum Company for commercial users in May 2012 "was a first step towards eliminating the subsidy completely", to help improve Sepec's financial position.
Noting that the Housing Finance Company (HFC) is now incorporated as a company with its functions restricted to lending, while management of government housing is now the function of the Property Management Company (PMC), Mr Laporte said the two institutions will continue to work closely given their complementarities.
"While the government remains committed to making social housing affordable to lower income households, further reforms are needed in this area. The current model whereby HFC subsidises lending rates is not sustainable and could jeopardise the long-term viability of the institution.
Thus it needs to adopt a more sustainable lending model," he said.
"We also need to review our system of subsidy for social housing. We have already obtained technical assistance from the World Bank in this domain. Based on the results of this review we will reform the subsidy mechanism."
He said a major challenge for the HFC is recovery of loans, adding in 2013, HFC will accelerate its debt recovery and review its loan approval process to reduce the risk of defaults.
"I take this opportunity to appeal to all HFC clients to honour their responsibility and repay their loans on time to avoid risks of litigation, and so that others could also benefit with a roof over their heads."
He said as is the case with Sepec, it is important for the long-term viability of the Public Utility Corporation (PUC) that the rate of utility tariffs paid by consumers reflect the cost of operations.
"In many countries tariffs are set to also cover investment costs. However, in Seychelles, we have thus far limited the tariffs to cover largely operational expenses. PUC's tariff structure unfortunately does not in all cases reflect that. As such major reforms are still needed to bring PUC's tariff structures in line with normal practices.
"As a first step PUC will in January 2013 adopt a system of tariff indexation such that utility tariffs will be adjusted quarterly in line with movements in key variables that impact the cost of these services such as the exchange rate, international fuel prices, etc. Depending on the movements of these variables, tariffs could either increase or decrease. This will be followed by a gradual removal of cross-subsidisation across the various client groups which will begin in July 2013 when PUC will start rebalancing the tariff structure. This rebalancing exercise will be completed gradually over a period of seven years.
"As we have always done, our reforms do not leave behind those who are more vulnerable. To this end, this rebalancing exercise will be accompanied by the introduction of a social tariff," he said.
The budget address covered other aspects such as giving an overview of the economy in 2012, performance of key economic sectors, anti-money laundering and exchange of information issues, Seychelles investment climate and privatisation of the Seychelles Savings Bank.
We hope to publish further details from the address in our coming issues. Meanwhile, the full Budget speech is published in our centre pages.