New set of books to enrich maritime students' knowledge
05-December-2012
Also present at the book presentation yesterday morning were the principal secretary Michel Nalletamby and the school's principal Brian Hoareau.
The MTC, in new premises at Providence, presently has 218 students enrolled for a two-year course, studying such subjects as navigation and seamanship, advanced fisheries, marine mechanics and basic fisheries. There are 12 full-time teachers and a few part-timers.
Mr Sinon had received the reference books while accompanying President James Michel on a working visit to Sri Lanka in October and also from a delegation led by the Sri Lankan Fisheries and Aquatic Resources Development Minister Rajitha Senaratne who came to Mahe a few weeks later.

He obtained the books as gifts from the Food and Agriculture Organisation (FAO).
Mr Sinon urged the students to make good use of the books to broaden their knowledge.
He said that at a time when Seychelles even has female pilots and women crew flying Air Seychelles jets, we still lag behind in sea navigation.
"We see Seychellois stevedores offloading tuna catches, but we hope to see more of our countrymen moving up the wheelhouse," he said.
Mr Sinon said that while Seychelles has 1.3 million square kilometres of exclusive economic zone (EEZ), we are still very much behind Sri Lanka, with barely 500,000 square metres.
He noted that Sri Lanka has been building its own fishing boats and fishing on them. Now, Sri Lanka is building fishing boats for Seychelles too.
"Our task is to turn our fishing industry into one where Seychellois can access it fully," he said.
The books include one from the FAO entitled 'The state of world fisheries and aquaculture 2012', complete with detailed information and data.
Mr Sinon said that at a recent FAO meeting he attended in Rome, Italy, most ministers wanted to go away with copies of the book.
Mr Hoareau welcomed the book presentation which he said will enrich what the MTC already has in its library.
He noted that the world is becoming a global village and students should, besides the centre's curriculum, try to learn as much as they can on their own.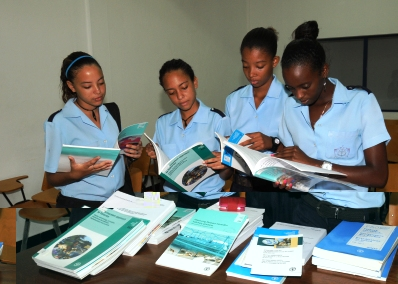 He noted that the student intake has increased to over 100 from only about 40 three years ago. Presently, three officials from the Seychelles Fishing Authority (SFA) are also taking part-time courses at the MTC.
Other reference books donated include 'Integrating fisheries into coastal area management' and 'Ecosystem approach to fisheries'.
There are also documentaries recorded on audio and video.
The MTC also has facilities to accommodate a few foreign students from the region.