Edward Pothin wins year's best cyclist award
07-December-2012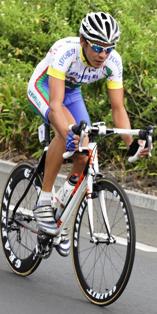 Pothin, who finished ahead of second-placed Dominic Arissol, replaces Hudson Mathieu who won the title last year.
Pothin's achievements in 2012 include winning the National Championship and the best senior title, the Victoria Race, the National Classification, the team event with his club St Francis and the individual time trial.
At international level, he took part in the Tour de Maurice, Tour de La Réunion, African Championship, Etoile de L'Océan Indien, Tour of Sharja and the League de La Réunion.
As for second-placed Arissol, he competed in the National Classification and National Championship winning the prize for the best improved cyclist in both competitions.
Better known for her football and athletics skills, Diguois Natacha Bibi has been voted the best female cyclist for 2012. Locally she finished first in the National Classification and also dominated the Victoria race series as well as the La Digue Tour.
The young male cyclist title for 2012 has been won by Fadi Confiance. His best performances were in the National Championship, National Classification, King of the Mountain ,Victoria Race, La Digue Tour and the individual time trial where he emerged as best cadet cyclist each time.
Jacquelin Pothin has been named as the association's best volunteer after giving outstanding support all throughout the year.
Being responsible for the cyclist's security, Mr Pothin had to drive the whole race profile at least one hour before each race to place security boards and cones at dangerous bends, junctions, corners and roundabouts.
He also controlled the flow of traffic to make sure the road is free for the cyclists. Strict and highly disciplined, Mr Pothin has earned the respect of other officials and cyclists. He took part in his first international competition in September during the Tour de Maurice as the team mechanic.
After coaching the St Francis cycling club to successfully defend their titles, Andrew Boniface has been voted this year's best coach. He also kept a good level of team discipline as his cyclists gave better performances.
This year's best cycling official award has gone to DTN Lucas George who conducted the major races locally and officiated at the African Championship as chief commissar.
R. D.