Youth Festival under way
10-December-2012
The official launch took place in the presence of Minister Designate and Minister for Social Affairs, Community Development and Sports Vincent Meriton, Labour and Human Resource Development Minister Idith Alexander and the chief executive of the National Youth Council, Vicky Van Der Westhuizen.
After the council's anthem, a video show featured highlights of a heavy programme of youth activities. In his state-of-the-nation address in February, President James Michel announced he was taking over the youth portfolio.
He opened the Youth Services Bureau on Ile Perseverance some weeks later.
The Young Citizens Movement marked its 10th anniversary in March, when the 9th Youth Assembly also convened.
The documentary also highlighted that three platoons made up of 415 youths, representing several national organisations, took part in this year's National Day parade on June 18 at Stad Linite.
The youth council was also present at the Carnaval International de Victoria.
Among other events, there was the laying of a foundation for a multi-purpose complex at Perseverance and the award of grants to young entrepreneurs who had successfully completed a management course.
On the programme on Friday were several cultural performances including a song from the Young Citizens, a stand-up comedy, dancing from Praslin and La Digue and more dancing from the Youth Troupe.
Mr Meriton said the National Youth Festival's theme En Lazenes fyer e travayan has special significance, as it will push all youths to do better for the good of all.
He noted that this will inspire youths to work hard and honestly as loyal citizens of this country.
Mr Meriton said that while youths were the main victims of social ills, such as drugs, alcoholism, prostitution and HIV/Aids, they also constitute the solution to the challenges and difficulties.
He recalled the words of President Michel, who often says that we must believe in the potential of our youths, that the country has a duty to support our youths and Seychelles in return expects them to work hard not only for their personal well-being, but for the entire nation.
According to Mr Meriton, we have many reasons to be proud of our youths' accomplishments, as again in 2012 they have shone at local, regional and international levels.
He gave the example of our weightlifters who won nine gold medals in the recent competition held in Reunion, where they came out top.
There is also their artistic talents, he said, which for us all is a source of pride and he gave the example of the group that came up with the hit 'Respect for life' which won top prize for Africa at the Rio 2020 summit in Brazil.
As for their intellectual capacity, Mr Meriton noted that just Friday morning, 100 young men and women had become the first cohort to obtain diplomas from the University of Seychelles (UniSey).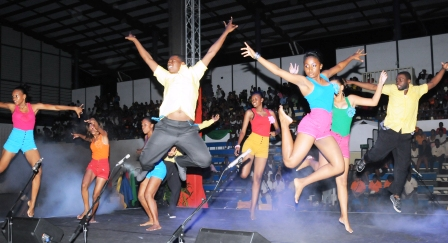 The minister said that a country is judged not by its area or size of population, but by the strength of its people.
"I salute those who have already given everything to ensure that our country moves forward. I take off my hat to the majority of youths, who hold their heads high, conscious of the fact that their accomplishments are taking our country forward. I encourage them to continue walking on that positive path."
The festival continued over the weekend with sports events at the Anse Royale playing field yesterday.
Today at L'Union Estate, La Digue, there will be bronze and silver pin presentation for Praslin and La Digue participants of the President's Award Scheme.
A swimming competition at the Roche Caiman swimming pool is programmed for tomorrow for youths from Mahe, Praslin and La Digue.