Up-Close … with Maurice De Gonzague, young freelance photographer-'Photography is my passion'
11-December-2012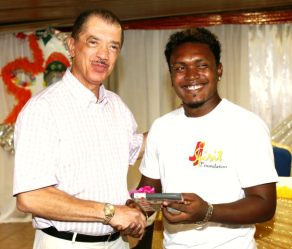 Recently when I was given the task of being a photographer for a day, I realised it is not just about holding a camera and know how to click at the right moment.
That little world of clicking and taking photos is much more fascinating than I thought and that inquisitiveness inside led me to discover the amazing world of photography through Maurice De Gonzague, better known as Mau among his friends.
Photography has not only been his passion but has become part of his daily work. His camera is to him like a dog is a man's best friend.
The first 'click'
He placed his camera on the table, smiled and headed down memory lane.
From using his Blackberry phone, moving on to a simple camera and now to a professional set, Mau is ready to keep climbing the ladder to become one of Seychelles' prominent photographers.
"It all started on June 5, 2011. It is not only my hobby but it is also a business that I have set up," he said.
"If you visit one of my pages such as /MauSnapShootphoto on Facebook you will have an
idea of what I do."
Being a photographer
"Everything that I do is via Facebook. I have my pages and groups relating to my work as a photographer," he said.
Mau has lots of plans for the future such as the opening of an agency which he is currently working on.
Baby Snaps is another project which he is working on. So parents who want to have their cute little ones to have a photo shooting session can contact Mau and can rest assured they will not be disappointed with the end results.
Mau…
The 25-year-old young man was born in Madagascar in 1985 but he moved to Seychelles when he was still a small child.
He followed his primary, secondary and post secondary studies here and now is putting what he has learned into practice.
After a hard day's work, Mau heads back to the quiet neighbourhood of Intendance Takamaka where his family awaits him.
The tranquility of his residence inspires him and has led Mau to enjoy and appreciate peace and harmony.
His work and latest passion for photography have taken most of his time so according to Mau he does not much time for other hobbies such as sports and other arts.
Leisure
Most of us on Facebook knows Mau or at least have heard about his three pages and 94 groups on this popular site.
"There was a technical problem for two days (recently) and I was not able to have internet access. This made my two days a nightmare," he said.
So how does he manage all these groups and pages on Facebook?
"It is not easy but it is not difficult as well to manage all of them. I know what I am aiming for and what I am achieving so I am happy with what I do," he said.
Personality and principles
"Well I believe I am someone who is frank, because I believe in speaking the truth and being heard," he said.
"I believe that there is a time to have fun and there is a time to be serious in life."
The ever energetic Mau is always on the move, always wanting to do his job well and on time.
"In conclusion I can say that I am what you can call a 'cool' guy," he said.
"I get criticised quite often but that does not stop me from moving forward and persevering in my tasks."
As I watched him walk away from Nation's office, I came to the conclusion that Mau is indeed a determined young man who wants to know the true taste of success and happiness.

by Mandy Bertin