Olympic Solidarity-Zone 7 coaches attend level one course
11-December-2012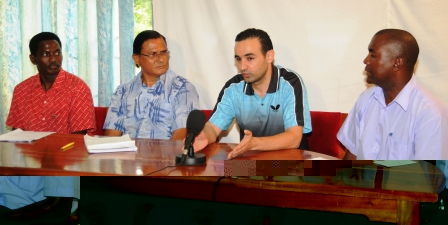 Jordanian expert Mohamed Atoum addressing guests and delegates at yesterday morning's opening of the table tennis level two coaching course
The training programme was launched yesterday morning at the headquarters of the Seychelles Olympic and Commonwealth Games Association (Socga) at Roche Caïman by its president Antonio Gopal.
Social Affairs, Community Development and Sports Minister Vincent Meriton, community development and sports principal secretary Denis Rose, chief executive of the National Sports Council (NSC) Alain Volcère, Socga secretary general Alain Alcindor and chairman of the Seychelles Table Tennis Association (STTA) Francis Remie were among the guests at yesterday's launch.
The course, which is being conducted by International Table Tennis Federation (ITTF) expert Mohamed Atoum of Jordan, is being jointly hosted by the STTA and Socga under the umbrella of the African Table Tennis Federation.
Launching the course, Mr Gopal praised the STTA for such an initiative and promised more future support towards local table tennis.
He urged the coaches to gain the maximum out of the working sessions and this, he said, will better their coaching performance, thus bringing the sport to a higher level.
Addressing those present, Mr Remie said hosting the course follows an agreement during the zone meeting held here last year and is in line with the committee's vision to push table tennis among the top five sports in the region.
This, he said, can only be achieved through developing solid capacity building for all countries involved.
He said that during the course, emphasis will be placed on developing table tennis for disabled people so that every country in the zone could have a structure to develop it and better benefit from the international structure.
Mr Remie added that the course is the last phase of training for coaches before the STTA carries out its new four-year plan (2013-2016), bringing the association to the next level.
He ended by thanking Socga for the opportunity and the NSC for its support.
R. D.