German company promotes solar energy on Cerf Island-• 'Renewable energy no longer an option, but a must'
13-December-2012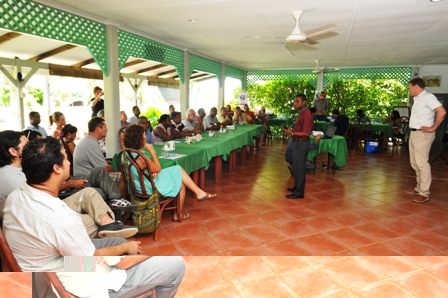 How its potential can be used is what Germany-based Sea and Sun Technology GmbH is demonstrating in its pilot project in Seychelles.
This was done Monday at the L'Habitation hotel on Cerf Island in the presence of the principal secretary for finance, trade and investment Steve Fanny, Alain de Commarmond deputising for environment and energy principal secretary Wills Agricole, and the chief executive of the Seychelles Energy Commission Andrew Jean-Louis. Also present were several prominent businessmen from Mahe and Praslin.
L'Habitation, a 14-room guest house owned by the Horner family, has since a week had solar panels, tapping into solar energy installed, providing it with 5Kw of electricity daily.
Another such facility of 5Kw has also been installed at the Seychelles Institute of Technology (SIT).
The group has in addition installed solar panels on five households, each producing 2Kw of electricity power. Two of the households have batteries as back-ups.
The installations were carried out by the company's Seychellois technicians Jim Lesperance and Brian Savy over a two-day period in each case.
This project is part of the worldwide 'dena Solar Roofs Programme' coordinated by the German Energy Agency and is co-financed by the German Federal Ministry of Economics and Technology.
Mr Fanny welcomed the German company which he said had a pioneering role in promoting the use of solar energy in Seychelles. He said the use of clean energy will mean less carbon footprints.
Mr Fanny also said it is hoped that in future, small islands producing only very limited CO2 emission will be compensated since they have hardly any input in the global warming phenomenon.
It is estimated that if all 21,000 households in Seychelles are equipped with energy efficiency solutions, this would cut use of oil by 15%.
Ms Kirstin Henri, Germany's honorary consul in Seychelles, hailed the new avenue of cooperation between the two countries. She noted that in his budget address last week, Finance, Trade and Investment Minister Pierre Laporte said that renewable energy is no longer an option, but a "must".
Ms Henri also pointed out that the company is receiving financial support from the German Federal Government.
"The time is right as finance and technology are working along the same lines."
Jessica Klein of the German Energy Agency said that since 2004 dena supports worldwide programmes and initiatives dealing with solar energy.
One of the home owners, Angelika Maurel of Mare Anglaise, said she is very satisfied with the new alternative energy device which she will enjoy for a year on a test basis.
The guests were told that the system costs 2,500 euros for one Kw. Though the warranty is for 10 years, the system can last for over 20 years.