Updated edition of Claude Pavard's 'A bird's eye view' released
15-December-2012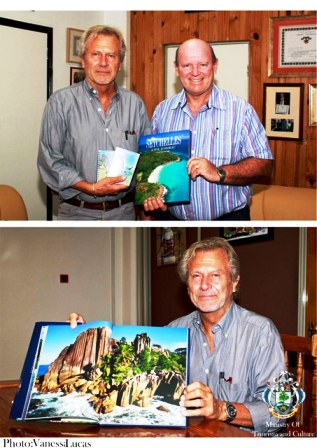 Claude Pavard's bestseller published in 1999 in French, and translated one year later in English -- before being edited in Russian, German, Italian and Spanish -- has gone through a process of significant facelift with latest photographs and quality printing, making it one of the finest reprints on the market.
The photograph on the front cover, which previously displayed the aerial picture of Farqhuar Island, has now been replaced by that of a bird's eye view of Anse Georgette and the Lemuria Golf court on Praslin.
During the presentation of his book, Claude Pavard acknowledged that "25% of the book is updated with new photos".
The interesting component of the book is the upgraded print quality, and with its high quality photographs inside, this hard cover coffee-table sized book is a perfect gift to visiting dignitaries and friends.
The French cinema director, photographer and reporter is also a member of the Geographical Society, the French Explorers Society, and "Member of the Board of Trustees of the Seychelles Islands Foundation. For years, he toured China, the African continent, from Algiers to Cape Town and the Western Indian Ocean, where he has visited all the islands several times and has generated more than fifty documentary films and a dozen books, including three on Seychelles.
The Seychelles Minister for Tourism and Culture, Alain St Ange, met Claude Pavard this week in his office at the National Cultural Centre in Victoria, and was presented with a copy of the new updated version of "A bird's eye view."
While going through the pages, Minister St Ange said that "he finds this new version appealing and it will surely contribute positively to the promotion of Seychelles".
The updated English version of "A bird's eye view" is already on sale in various book shops around Victoria such as Antigone and Chanterelle.
The French and Russian editions are expected to be on the market soon.
As for the Germans and Italians, they will a have to wait for another six months before they get hold of the updated version of "A bird's eye view."