International Human Rights Day-Your right to take part in public life
15-December-2012
It is the occasion when the international community committed to building a world where all people are "born free and equal in dignity and rights" and are entitled to liberty, equality, and justice under the law.
This year' the theme is Inclusion and the right to participate in public life. The spotlight is on the rights of all people – women' youth' minorities' persons with disabilities' indigenous people' the poor and marginalised – to make their voices heard in public life and be included in decision-making process that shapes their lives.
This theme could not be more appropriate, given the events of the past two years, when we witnessed an unprecedented expression of the universal desire for dignity and freedom leading to the transition to democracy in countries such as Tunisia and Egypt. People all over the world are making their voices count by making it heard loud and clear.
Locally, much progress has been made to protect and promote the right to peaceful assembly, freedom of expression, including the setting up of the Electoral Commission – whose primary mandate is to conduct electoral reforms, the establishment of the Seychelles Human Rights Treaty Committee, the drafting of the National Human Rights Action Plan and the Prison Service Strategic Plan.
Foreign Affairs Minister Jean-Paul Adam in his National Message for International Human Rights Day noted that "full participation in public life also means that we, as a nation, categorically reject and condemn discrimination in all its forms and the barriers it can create in our society". Inclusion and the right to public participation are for all persons – no matter their ability, disability, gender, race, ethnicity, age, or political opinion. The onus to guarantee these rights is not only on the government and non-governmental/civil society organisations, but rather the responsibility of each and every citizen of Seychelles. Let us ask ourselves: What have I done to make the voices of the voiceless heard?
Are such rights fully enjoyed by all persons?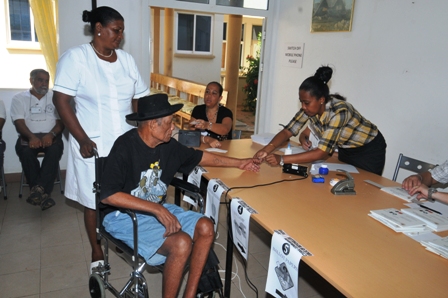 One group that often faces difficulties in enjoying the right to public participation, and barriers to full inclusion, are the disabled. About 15% of the world's population – over a billion people – are living with some form of disability
Naddy Zialor, a person with a disability, working as a guest service agent at Le Meridien Barbarons resort, confirms that he often faces barriers to the full enjoyment of his rights. He says, "it is society who sees us as disabled, whereas it is the society itself that is disabled. It has created barriers that the disabled cannot overcome. It is only if these barriers are removed, only then, can the people society considers to be disabled be truly included".
Mr Zialor notes that most disabled persons are not able to make it through to secondary or post secondary schooling, simply due to a lack of accessibility.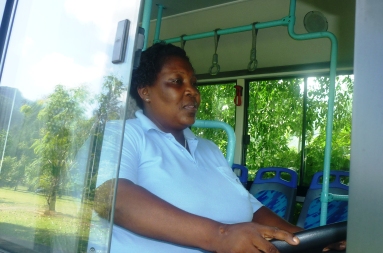 The system of education in Seychelles does make adequate provisions for teachers to have proper training to be able to adapt to special needs of disabled students in the normal schooling system, says Mr Zialor.
He encourages the disabled themselves rather than their representatives to speak out for their rights. Their voices should be heard directly from them.
What laws protect the rights to inclusion and the right to public participation?
The Constitution of Seychelles guarantees the rights to freedom of peaceful assembly, association, and the right to take part in public affairs in Article 23 and 24.
Article 23(1), which states that "every person has a right to freedom of peaceful assembly and association and for the purpose of this Article this right includes the right to assemble freely and associate with other persons and in particular to form or to belong to political parties, trade unions or other associations for the protection of the interests of that person and not to be compelled to belong to any association".
Article 24 of the Constitution states that once a Seychellois citizen has reached the age of 18 years, he or she may fully take part in government through by being involved in public affairs, directly or indirectly through representatives, register as a voter, take part in elections as a voter and/or candidate and to hold office, if elected or selected for proportional representation.
What is being done to further these rights?
Among other activities, the government set up the Seychelles Human Rights Treaty Committee in October 2012. The Committee is composed of stakeholders from government sectors, civil society and non-governmental organisations, ensuring representation of a wide range of voices. The committee is tasked with, among other things, ensuring the promotion and protection of the rights laid out in the international human rights treaties that Seychelles is a party to.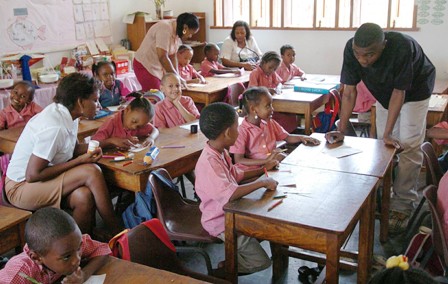 The committee will also oversee implementation of the five-year National Human Rights Action Plan which is now being drafted. The plan will further strengthen the legal framework for human rights protection, ensure better protection for individuals, lead to more effective social programmes that will enhance the quality of life for all – particularly vulnerable groups – and foster a stronger culture of human rights overall.
The electoral reform process is also currently underway in order to improve the enjoyment of the right to take part in public life by the Seychellois people.
Conclusion
Human Rights Day presents an annual chance to celebrate human rights' highlight a specific issue' and advocate for the full enjoyment of all human rights by everyone, everywhere. We must however ensure that the promotion and protection of such rights is not a one-day event; advancing freedom and human rights is the daily work of every Seychellois.
As Mr Adam noted, "the pursuit of guaranteeing every Seychellois the rights enshrined in the Universal Declaration of human rights, and in our own Constitution, can only be achieved through the collective action of our people. Let us mark this year's Human Rights Day by embarking on a journey to foster a culture of tolerance, acceptance, and non-discrimination for all. It starts with each and every one of us."

Creating space for ideas
"Creating the conditions for full participation in public life in our society implies that we must create the space for different ideas to be shared. This space starts in the relations between two people - in whatever discipline in life (and so we must actively foster the principles of good neighbourliness and respect for one another in our communities. This space must thrive within our schools and public institutions. This space must grow and widen its scope within our big the Security Council in 2017 - as we believe strongly that every voice counts. "
Quote from Foreign Affairs Minister Jean Paul Adam's International Human Rights Day message

--------------------

Governments should ensure 'your voice counts' is not a dream
Governments should ensure that this is not a dream "No matter who you are, or where you live, under international law, your voice counts. Governments should ensure that this is not a dream. It should be a reality."
Quote from UN high commissioner for human rights Navi Pillay