Over ninety police officers promoted-• Three rise to rank of assistant superintendent
17-December-2012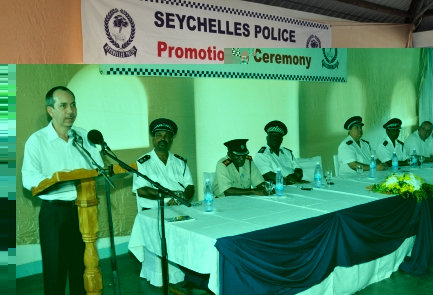 It was during a ceremony held at the Seychelles Police Academy on Friday afternoon that the large group of police officers gathered to receive their new shoulder straps indicating their new ranks.
The event was held in the presence of the Minister for Home Affairs and Transport Joel Morgan, police commissioner Ernest Quatre, management of the police department, senior officers and staff of the academy.
Commissioner Quatre told the audience that the event was a significant one and was proof of the trust being put in those being promoted.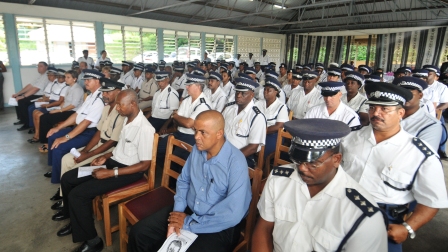 "We expect nothing but quality performances, while also displaying ethics and professionalism.
I ask you all to use the opportunities presented to you to motivate yourselves even further and so propel yourselves forward in your careers," he said.
"Keep in mind that success comes with sacrifices and so I ask you to not use your new ranks simply as a display on your shoulders, but to use them to inspire a true sense of responsibility, discipline, leadership and other essential values needed to make your work better."
He then wished the officers luck in their new responsibilities.
The three inspectors who are now assistant superintendents – Andre Joseph, Jemmy Bouzin and Romano Songor – received their new ranks from Minister Morgan.
Commissioner Quatre, followed by other senior officers, then gave the other officers theirs.
Apart from the new assistant superintendents, there are also those who have been promoted to inspector, sub-inspector, sergeant, and corporal.
After all present had been promoted and those who were absent as they are following overseas training or for other reasons were excused, Minister Morgan addressed the audience saying that during the time of restructuring and reform in the police department, it is a pleasure and encouraging to see officers who are showing dedication to their careers.
"We appreciate the efforts being made to make our police force more effective and professional and we give our pledge to always reward those who merit it in the force.
Do not forget that hard work and professionalism always bring good results," he said.
"To the newly-promoted, your new ranks have not come at random.
It is because your superiors have noted your good qualities and essential abilities that make you deserve a promotion. This reward is also an opportunity for you to step up your sense of responsibilities and guide others to help the force in its roles to society."
He also asked the officers to be more proactive, especially with the force putting emphasis on training.
"Opportunities will come and I ask you to seize them and increase your knowledge and abilities," he said.
After the ceremony, those who have been promoted congratulated and wished one another good luck, before joining guests for a more light-hearted moment.