Football: Chan 2013 qualifier-Seychelles succumb to Mozambique
17-December-2012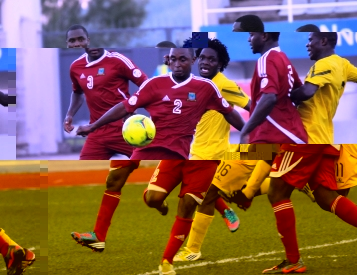 Seychelles have now been eliminated on a 1-6 aggregate score after losing the first leg 0-4 in Mozambique.
On Saturday, Mozambique took control of the match from the kick-off and were denied a possible penalty in the sixth minute when Steven Télémaque tripped Mozambican Saddam Guambe, but Mauritian referee Ganesh Gutdoce waved play on.
The Mozambican had total control of the match as the Seychelles team remained on the defensive as they tried to contain their much superior opponents.
In the ninth minute, Mozambican Reginaldo Fait blasted a strong free-kick which goalkeeper Nelson Sopha pushed over the crossbar.
Eight minutes later (17th) the Seychelles custodian had to race off of his goal-line to clear the danger posed by Mario Sinamunda.
The Mozambicans should have taken the lead in the 21st minute from Guambe's corner kick but in an unmarked position, Gabriel Macurele headed way off the mark.
The second half saw the goals that the small crowd had come to witness.
In the 52nd minute, the Mozambicans opened the scoring through Reginald who headed past goalie Sopha Benedito Bernardo's long cross from the left for a 1-0 lead.
On the hour mark, Seychelles' Nelson Laurence had a gilt edge opportunity to equalise from a long ball but Mozambique goalkeeper Nelson Logomale denied him as he headed clear after coming off his line.
In the 62nd minute, Sinamunda got the better of defender Alex Nibourette to fire at goalkeeper Sopha who parried his shot. Sinamunda fought for the loose ball and this time blasted it past the Seychelles custodian to make it 2-0.
The Seychelles squad responded straight away through Alex Nibourette who riffled an angled shot low into the far corner for 1-2 scoreline.
The Seychelles team were now more threatening and substitute Achille Henriette should have done better as he pounced on Benedito's suicidal back pass, but his goalkeeper Logomale tackled the La Passe midfielder in the nick of time.
Télémaque also had a glorious opportunity to level the score in added time as he latched onto Henriette through ball but goalkeeper Logomale stood tall to deny the local midfielder as the Mozambican held on for a victory.
R. D.