Granmoun sa!
21-December-2012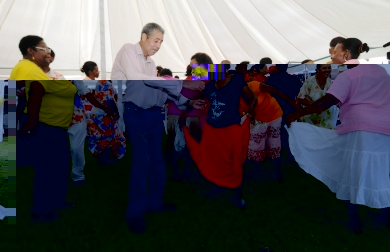 A band called Reviv has been constituted by veteran musician Patrick Victor and it has Guy Marie and Barney Adeline on guitars, James Barbé and Justin Freminot on drums , Marcel Crea on the violin and Roy Cadeau on the banjo.
Altogether 57 persons aged 60 years old and over have registered for the show. Some will perform solo, while others will perform in duo and/or in groups of not more than seven at any one time.

It is envisaged that Reviv will provide musical backing to some of the presentations.
Speaking to the press yesterday, community development special advisor Dan Frichot said the event is meant to revive some of the dormant or hidden talents of bygone days.
He said the idea comes from artist Gilles Lionnet who has seen something similar done in Mauritius called L'Âge d'Or or Golden Age.
A committee was set up early this year to develop the concept of a super show involving only persons having reached a certain age.
"It is meant to be influenced by memories of entertainment in the past decades and stir up some nostalgia in the days when entertainment in Victoria was plentiful," said Mr Frichot.
According to Mr Frichot, since the senior citizens (3-enm az) group for people aged over 55 years old was launched by the community development department, it has always been on the move, while benefitting from good leadership.
Its present chairperson is Jeanne D'Arc Gerry who has often organised lunches for the groups of elderly citizens and also led groups on exchange visits to Mauritius.
Sylvianne Lemiel, director general for project development and events within the community development department, said since word of the show has been out, many groups of elderly have been composing songs and poems for presentation.
She added that not all will be in creole as our grandparents were known to speak fluent French.
She said that a group from Baie Lazare is planning to feature a presentation on youths, wearing the same clothes that teenage boys and girls wore in the bygone era.
Mr Marie said that since practising with Reviv for the show, he has heard some songs for only the first time.
"That is the case, even though I've been playing music for 40 years now. This shows that our musical scene has never been static," he said.
Patrick Victor will be responsible for the mise en scène of the entire show – that is the décor and other logistics.
The show is costing some R100,000 to put together. The money has been obtained from some sponsors. But it is hoped that the sale of tickets at R150 will help raise funds for what will be an annual event.
Mr Frichot said after Christmas, the sale of tickets for the show will start and outlets will include a kiosk outside the Victoria Post Office.