Silhouette school pupils rewarded
21-December-2012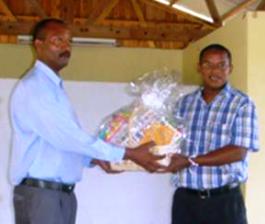 They were rewarded during a special prize-giving ceremony organised by the school in collaboration with the Islands Development Company (IDC) and Hilton Labriz Silhouette.
All students were honoured based on specific criteria. Francesca Adolphe emerged as the most outstanding student for 2012 to receive the 'best student 2012' award.
On behalf of the Ministry of Education, director general for schools Odile Octave congratulated the students and encouraged them to strive to reach greater heights.

Head teacher Donald Zialor extended his gratitude to all sponsors of the event, the teachers and parents for their continued support during the year. He said that in 2013 the Silhouette school will come up with new initiatives and ideas to improve on its achievements.
The event saw small presentations by Silhouette school students and popular local artist Master Emel, who performed two songs especially for the students.
Moreover, the invited guests were presented with gifts by the pupils as symbols of appreciation.
Silhouette primary school has the smallest population of pupils in Seychelles. The school currently has 17 pupils – 14 boys and three girls. Despite the modest number of students, the school follows the national curriculum implemented in all the other primary schools in the country, except that a multi-grade teaching system is adopted whereby two classes are merged together.