Eden Art Gallery – 'A haven for Seychellois artists'
22-December-2012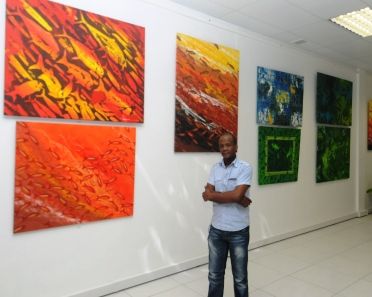 Situated in suite 103 of the Eden Plaza, the gallery -- co-owned by distinguished artists Nigel Henry and Camille Mondon -- is the biggest contemporary art gallery in the country yet.
It features original artworks from various famous and established as well as up and coming Seychellois artists. The techniques vary from acrylic, oil, water colour, wood to mixed media.
Mr Henry says besides showcasing the work of the well established artists, the Eden Art Gallery believes strongly in promoting the work of potential young and budding artists.
He explains that all artists are welcome to display their work, on the condition that their pieces are up to a required standard.
He adds that since its opening, the gallery has attracted a huge crowd and many collectors have already bought several paintings.

Mr Henry also says, despite selling some art pieces to foreigners, most of the buyers are Seychellois. This, he says, illustrates the public interests in arts and also the economic potentials of the trade.
He also notes that the gallery is now operating on commission basis and once well settled they will look into the possibility of buying all the work.
He says the Eden Art Gallery is also open for personal exhibitions and in the future they are planning to host school displays.
The Eden Art Gallery is open from 9am to 6pm on weekdays, from 9am to 4pm on Saturdays and from 9am to 2pm on Sundays.