Belgium involves Seychelles more in anti-piracy drive
24-December-2012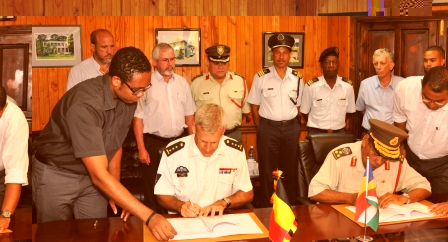 This follows the signing on Friday of an agreement between the two countries to allow such military cooperation.
Our chief of defence forces Brigadier Leopold Payet signed the agreement at the Independence House with Belgian Colonel Frederick Derolez in a ceremony attended by top local military and foreign affairs officials.
Brigadier Payet pledged that Seychelles will work closely with Belgium "as it has done in the past" and noted it is our duty to fight piracy "which is a major challenge for Seychelles".
He welcomed the placement of second lieutenant Mervin Esparon on the frigate saying the knowledge he will gain will help boost the link between the two countries' forces.
Colonel Derolez said the effort to boost cooperation started nearly three years ago when his country's defence minister came to Seychelles in November 2009.
"The minister and many Belgians thought Seychelles has laid the base for how you can do a lot of things with relatively small means, firstly in the framework of the fight against piracy and also how you manage a huge exclusive economic zone with a small population and land surface," he said.
He said what Seychelles has done within the framework of the United Nations Office against Drugs and Crime is very important as it shows the world what can be done with such limited resources.
He said the Seychellois coastguard on the Belgian naval ship Louise-Marie will "see how we contribute in the fight against piracy, and this is only a starting point because piracy is now linked to Al Shaba – to international terrorism".
Last week, the BNS Louise-Marie was tasked to track a suspected vessel using the warship's helicopter from which the force's personnel boarded the vessel and arrested five suspect pirates "who had been out at sea drifting for some time".
Reports said the five were suffering from severe dehydration and malnutrition and it was assessed that the men would have died if the warship's crew had not intervened.
"After the men were given some food and water, an analysis of the event was done and evidence collected and the decision taken to put the men ashore on a Somali beach," said a statement sent to Nation by the European Union Naval Force that is patrolling the sea off the coast of Somalia to ward off pirates.