Interview with Seychellois Nick Baldwin, voted triathlete of the year 2012-'The title inspires me to do even better and go over the limits of what's possible'
24-December-2012
Baldwin's 2012 palmarès tells the young man's story as he raced as an age-grouper – 18-24 years – on foreign shores.
After starting the season with a 20-24 years age group win at the long course in Abu Dhabi, Baldwin decided to go to the United States where he trained at professional level and competed in some major international events.
He was crowned the 18-24 years age group champion at Ironman 70.3 UK and they came away with Ironman 70.3 18-24 World Championship title in Las Vegas, USA. The young man followed this up in Kona by claiming silver for the second year running and finishing in a very impressive 40th overall.
The 2012 season has been filled with memorable moments from training and racing for Baldwin and he is now looking forward to the challenge of racing as a professional in 2013.
Before Baldwin returns to Seychelles to be with his family and start preparing for the coming season, Sports Nation brings you an interview done with the young triathlete via e-mail.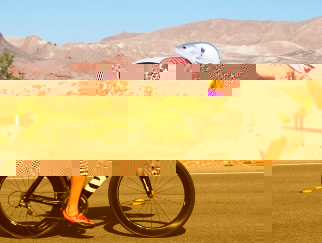 Sports Nation: Congratulations on winning the triathlete of the year title. How does it feel to receive such a recognition?
Nick Baldwin: Out of the thousands of successful athletes it was a surprise to be included in the final vote and to be voted as triathlete of the year was an honour. It's a privilege to be voted triathlete of the year by Beyond Going Long readers. I'm so grateful to everyone in Seychelles who showed their support by voting – it really means a lot to me. If anything it inspires me even more to continue to improve and push the boundaries of what's possible. 2012 has been filled with memorable moments from training and racing and I'm looking forward to the challenge of racing as a professional in 2013.
Sports Nation: How can you describe your season?
Nick Baldwin: I finished on the podium in all eight of my races, with six wins, one second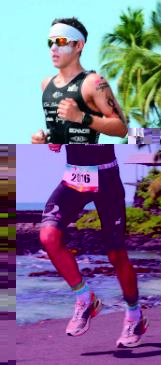 place and one third position. So it was definitely a consistent season. The only downfall this year was when I was hit by a car while cycling in May and injured my shoulder; this hampered my swimming for the season. Other than that incident I stayed injury free and everything went according to plan.
Sports Nation: You performed really well at the worlds in Kona, finishing 40th overall. Were you expecting to finish that high?
Nick Baldwin: Last year I finished 108th overall and this year I was very confident of improving on that. It's always difficult to predict how such a long race like an ironman will go, but my aim was to be in the top 70. Conditions on the day were harder than ever, with temperatures into the 40s and severe winds on the bike which made it difficult to stay upright at times. Finishing 40th overall was a huge leap and validation of all the hard work done in training over the last 12 months.

Sports Nation: You trained for quite a while in the United States this year, how has this helped you in your races?
Nick Baldwin: I spent five months of the year in the United States, mainly training in Boulder, Colorado. There's no doubt that it was a huge advantage in my preparation for the World Championship races, not only because of the benefits of training at an altitude of 5400 feet, but also the amazing training facilities, as well as there being countless talented athletes to train with.
Having done so much training alone in the past, it was the first time I'd had the opportunity to train with others. There's no doubt that training with others help you push more than you could if you're on your own. I've learned a lot about myself as an athlete this year and will plan my 2013 year to get the very best out of myself.
Sports Nation: What were your special moments in 2012?
Nick Baldwin: The best racing moment was definitely winning the Ironman 70.3 (1.2 mile swim, 56 mile bike and 13.1 mile run) World Championship title for the 18-24 category in Las Vegas, USA. Winning a World Championship title made all the pain I've suffered in training worthwhile and I'll always remember that achievement. The experience of spending the summer in the United States and having the chance to train in some incredible locations was something that I'll also never forget.
Sports Nation: This year has been your last year as an amateur, how are you preparing to become Seychelles' first registered Seychellois professional in 2013?
Nick Baldwin: My results in the last year have validated my status as a professional triathlete for 2013 and I'm very excited to be the first professional triathlete to represent Seychelles.
Making the transition to being a pro is a big step and it may take years of racing to reach the top of the sport. As a professional triathlete I'll have to earn a living through racing, so I have to be 100% committed and make decisions that enable me to perform at the highest level possible. Ultimately that means being away from family and friends and training abroad, but that's a sacrifice that must be made in order to reach the top.
I'll likely race regularly over the half distance and may try to chase points to qualify for the 70.3 World Championships in Las Vegas. I'm sure there will be an Ironman distance race thrown in somewhere, too. Returning to Hawaii (for the Ironman World Championship) is a focus of mine, but I won't go there with the aim of being a mid-pack pro.
Sports Nation: Now that you will be turning pro, will you be helping young Seychellois to take on triathlon?
Nick Baldwin: If there's any way in which I can help the National Sports Council to develop triathlon in Seychelles then I'd of course be very happy to be involved. Organising small races is an important step to enable youths to experience triathlon first hand. There are certainly some people who are passionate about the sport and who want to see the sport developed locally, so hopefully there will be more opportunities for triathlon to be experienced by all in the not too distant future.
Sports Nation: Finally, what are your targets for the 2013 season?
Nick Baldwin: I'll be training in Seychelles from the start of the year until the end of February in preparation for the Abu Dhabi triathlon in March. After that I'll travel to Stellenbosch, South Africa to train for Ironman South Africa in April, which will be my first pro race.

My current plan is to return to the United States in the summer and race there until the end of 2013, targeting one or two of the North American Ironman races. My aim will be to achieve a top-five overall finish in an ironman race, which will be tough but hopefully achievable. An ironman is such an enduring race that you can only race a limited number per year without burning yourself out physically, so my coach and I will plan the season's races carefully. I'm looking forward to the challenge of racing as a professional and can't wait to start the new season!
Sports Nation: Thank you, Nick.
G. G.