Les Mamelles' less fortunate treated to Christmas lunch
27-December-2012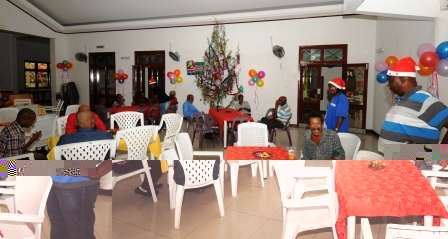 The lunch – which is an annual event on the district's calendar of activities – is an occasion where these people can meet and enjoy a delicious lunch in the company of others and bask in the spirit of Christmas.
By 1pm the guests had already started to arrive and were welcomed by Mr Fideria and the district's administrator Doris Kiwale.
Mr Fideria told Seychelles Nation that he hosts the event with the help of his family every year, and spends it with joy with those less fortunate.
"It is important that we do not forget those less able to celebrate Christmas, and we reach out to them through our door-to-door visits, and make sure that they are able to join us for the event," he said.
Tuesday's event had been planned for around 35 to 50 people and Mr Fideria said that some people attend the lunch year to year, while others whose social situation has improved have given the place to another who is even less fortunate.
After lunch, those who were able to danced the afternoon away to the beat of popular Christmas songs while others chose to chat with friends or took part in party games organised specially for them.