Record number of 200,000 visitors largely surpassed
28-December-2012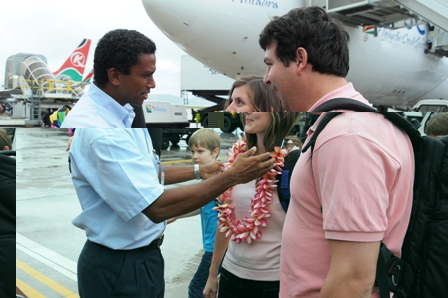 According to officials of the Seychelles Tourism Board (STB) who were at the Seychelles International Airport to greet the happy and lucky couple, the record-setting visitor arrived on Sunday, well ahead of predictions, because the 5,663 visitors who came last week had largely surpassed expectations.
And yesterday afternoon, both Air Seychelles and Kenya Airways, which arrived at around the same time, brought significant loads of visitors, which completely filled the arrival lounge.
So, it was a symbolic random pick by STB chairman Barry Faure, who designated the lucky passengers – Herve Stalder and Clea Marcuard – both from Switzerland, and no stranger to our shores.
For Herve, a journalist and film-maker, this is his seventh visit here and for Clea, his fiancée and student, this is her third vacation in Seychelles.
They were to catch the ferry Cat Cocos later yesterday afternoon to go to La Digue.
STB staff also presented them with several presents including a copy of the book Coco de Mer produced by Tourism and Culture Minister Alain St Ange, a dinner for two vouchers from Constance Hotels which own the Ephelia on Mahe and the Lemuria on Praslin, and vouchers for excursions from Mason's Travel as well as an assortment of souvenirs of the second Carnaval Internationale de Victoria.
They also posed for souvenir photos with STB staff and Seychelles Civil Aviation Authority (SCAA) chief executive Gilbert Faure with the Air Seychelles Airbus 'Aldabra' in the background.

Commenting on the fact that the 200,000 visitor arrivals, a record in itself has been surpassed, with over a week to go before the end of 2012, Mr Faure said it represents "a big achievement for our tourism industry which is progressing well and in the right direction".
He added that such results are strong indications that marketing efforts are working well and the fact that we have already set another record represents a significant milestone in the country's tourism history.
Mr Faure has forecasted an increase of 3% in tourism arrivals for 2013. While noting the Seychelles tourism has been recording increases of an average 7% since 2010, he said it is best to be cautious as there are indications of a drop from some traditional markets.
He said it is also important to diversify our tourism markets, such as Asia, Africa and Latin America, while consolidating the traditional ones.
Mr Faure said it is also important that the image or brand of Seychelles as an exclusive vacation destination is maintained.
He also dismissed suggestions that while visitor numbers are on the increase, revenue from the sector has declined.
He noted that the Ministry of Finance, Trade and Investment recently announced that tourism earnings increased by 5% in 2012.
"We are happy to see that the increase in visitor arrivals is matched by a hike in revenue from that sector."
A communiqué from the Ministry of Tourism and Culture read: "This is an achievement and when we look at the trend in many tourism destinations, we must say thank you to the STB, the body mandated to market the islands."
The arrival of the over 200,000 tourists mean that the islands' 2011 visitor arrival record of 194,753 will be remarkably eclipsed at the end of the year.
Last week's arrival statistics show that 195,386 visitors had arrived in Seychelles, which represents a 7% increase over the 2011 figure (182,667) for the same period.
The six leading markets to date are France, Germany, Italy, United Arab Emirates, Russia and South Africa.
Russia, UAE and South Africa were until a few years ago just secondary markets. The fact that they have now joined the "core markets" mean that efforts to diversify our tourism is already yielding good dividends.
Tourism remains the pillar of the Seychelles economy and the islands were encouraged to claim back their tourism industry when President James Michel launched the 'Seychelles Brand' of tourism.
Seychellois were encouraged to get involved in the tourism industry and in so doing defend and protect the industry that remains the pillar of their economy.
Today the Seychelles government is working alongside the Seychelles Hotel and Tourism Association (SHTA) to manage a successful tourism industry for the mid-ocean islands.