Man visits Seychelles again after 35 years
07-January-2013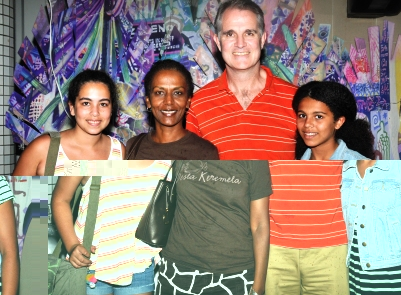 California-based Malcolm Clark and his Ethiopian wife Azeb Gessesse visited Seychelles with their children Sophia, 13 and Iona, 11 recently, taking advantage of the direct flights launched between Addis Ababa and Mahe not long ago.
Mr Clark won a scholarship in Scotland and visited Seychelles in 1977, when he did a "good study of the country which was at that time newly independent".
"I wrote about the industries and the future of the country in my dissertation.
"I came here because of Bill MacAteer. His son Ian is a citizen of Seychelles.
He was my good friend in high school. We came here at a very interesting time," he told Nation in an interview, adding he met senior government officials back then.
"So here we are. I came here because I wanted to show my family how much the country has changed exactly after 35 years.
"I still think the islands are very charming. I forgot just how incredibly beautiful they are.
"The country has developed a lot over the years, but not overdeveloped.
"We eat a lot of spicier food in Ethiopia but we also like the food here.
We have enjoyed the fish curries and the Creole foods."
Asked if improved air links could have a positive impact on tourism, he said many African countries are developing rapidly so direct links can help boost tourism between the continent and these islands.
Noting the presence of Kenya Airways which has for decades linked Africa and Seychelles, Mr Clark said Ethiopian's wide network will no doubt help boost the number of visits by those people who want to escape "busy Nairobi, busy Addis or busy Lagos".