Newborns to be screened for hearing problems
08-January-2013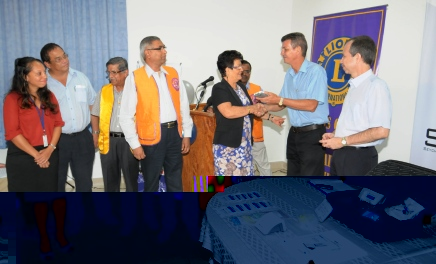 The equipment, a gift from the Lions Club of Paradise Seychelles (LCPS) and the Seychelles Civil Aviation Authority (SCAA), was handed over on Monday in a ceremony held at the Sheikh Khalifa diagnostic centre.
Present at the ceremony were Health Minister Mitcy Larue, Minister for Home Affairs and Transport Joel Morgan, SCAA chief executive Gilbert Faure, LCPS representatives and other guests.
With an average 120 deliveries yearly at the Seychelles Hospital, an estimated 4 to 6% of newborns suffer from impaired hearing and until now, this was not picked up until between two and four years old, in which case speech problems have also built up.

Ms Larue said the donation represents good partnership between her ministry, the LCPS and the SCAA. She said that early screening of hearing impairment was a new need identified by the ministry.
She noted that a recent initiative of the Lions Club had resulted in the screening of 140 patients, of whom 71 were operated on for cataracts, with the help of two Kenyan doctors.
"This will reduce the waiting list for eye patients," said Ms Larue, adding that early screening for any deviation is the best path to good health.

She said the Otometrics AccuScreen equipment will allow early screening of infants in good time for whatever interventions which are necessary.
Ms Larue expressed satisfaction that the Ministry of Health's projects are being supported by local firms and corporate bodies.
Presenting the Otometrics AccuScreen, Dr Sanjeev Pugazhendhi, also a member of LCPS, said the equipment automatically interprets data for doctors.
He said that methods used include auto acoustic emissions which, because of high sensitivity, will signal anything abnormal, allowing for early referrals to the ENT (Ear, Nose and Throat) specialist.
Dr Sanjeev said that equipment used for adults cannot be reliably used to screen infants.
Mr Faure, who was once project officer in the Lions Club, said: "In the SCAA we hear and we serve".
He said the SCAA heard of the need for early detection of hearing impairment early last year through the Lions Club and set about securing the necessary funding and ordering the required equipment.

He said the equipment arrived last November.
Since then additional hearing kits have also been purchased by SCAA. The SCAA paid R141,476.47 including freight to bring the AccuScreen to Seychelles.
Mr Faure pledged that the SCAA will continue to support the Ministry of Health as and when funds are required.