Belgium confirms participation in 2013 carnival in Seychelles
08-January-2013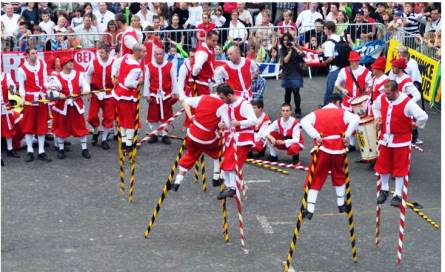 This unique event is staged annually in Seychelles and is this year being co-hosted by Seychelles, Reunion, Madagascar and Zimbabwe.

It is the Province de Namur of Belgium that will be flying the Belgium Flag alongside those from the Community of Nations showcasing their country's culture and people at the event now known as the 'carnival of carnivals'.
Christian Hebrant, the Chef de Cabinet from the Office of Governor Denis Mathen from the Province de Namur, has written to the Seychelles Minister responsible for Tourism and Culture Alain St Ange to confirm Belgium's participation.

The request to have Belgium take part in the Carnaval International de Victoria was made to Governor Mathen by Minister St Ange last year when the Seychelles minister was on a working visit in Belgium.
It was at the Palais du Gouverneur that Governor Mathen welcomed Minister St Ange and where they discussed cultural exchange programmes and cooperation in hospitality training.
The Province of Namur is known for its group Echasseurs who walk and perform on stilts and it is this group made up of 17 Belgians who will be travelling to Seychelles for the 2013 carnival.
Governor Mathen will also personally lead a delegation to Seychelles to be at the carnival as well as to continue the discussions he and Minister St Ange have started.
"I am happy that Governor Mathen is coming to the carnival with a delegation of Echasseurs.
This is a new attraction for the 2013 carnival we are staging together with Reunion, Madagascar and Zimbabwe.
The spirit of the melting pot of cultures remains alive and kicking as we see delegations upon delegations from North and South America, Europe, Africa and Asia confirm their participation in the Vanilla islands Carnival that we stage on the Equator for the world to showcase their culture and their people," Minister St Ange said.